Nationally Recognized
Admission Executive Karen Hunt Selected For National Leadership Development Program
Springfield, Ohio – Wittenberg University is pleased to announce that Karen Hunt, executive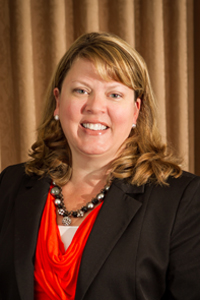 director of admission, is one of 45 mid-level administrators in higher education nationwide selected by the Council of Independent Colleges (CIC) to participate in the 2017-18 Senior Leadership Academy.
Individuals chosen for the yearlong program are administrators in higher education who have been identified by their institutions as having the potential for senior leadership positions in independent colleges or universities. Hunt will participate in an opening seminar in San Antonio, Texas, Nov. 3-5, 2017, and a closing seminar in Washington, D.C., June 21-23, 2018. She will also attend a mentoring program, work with experts, participate in webinars, and engage in a series of readings and case studies during the academic year.
The academy is designed to prepare prospective leaders to assume positions as the chief officers in any division – including academic affairs, student affairs, finance, enrollment management, and advancement – in independent higher education.
"The need to prepare future leaders of colleges and universities has never been greater because the generation of people now in senior leadership positions on campus is rapidly approaching retirement," said CIC President Richard Ekman. "Competition for the available places in the program was intense, and the review committee found the nomination materials to be most impressive. They (and I) believe that Karen Hunt has the potential for highly effective leadership in a position of senior responsibility on campus."
With more than 20 years of admission, financial aid and marketing experience at every level, Hunt has met or exceeded enrollment goals the past five years in what the industry regards as the most competitive regional admission market in the country. In addition to her program leadership, she also has extensive experience mentoring new admission professionals early in their careers.
"I am deeply honored to have been selected for this Senior Leadership Academy," Hunt said. "I am passionate about helping new generations experience the liberal arts, and I am excited to be able to learn from and with fellow colleagues who share this passion."
Sixty-one percent of participants in the first Senior Leadership Academy cohort (2010–11) have advanced in their careers, and 25 percent of participants in the recently completed 2014–15 cohort already have earned more advanced positions.
"These indicators suggest that CIC is helping to meet the leadership needs of higher education by offering highly effective leadership development programs for modest fees to member institutions," Ekman said.
Expanding participation in the 2017–18 Senior Leadership Academy, this year the American Express Foundation gave CIC a grant to support diversifying the leadership of independent colleges.
The Academy is co-sponsored by CIC, the American Academic Leadership Institute (AALI), and Academic Search, Inc. Linda M. Bleicken, president of AALI, will direct the program. For more information about the Senior Leadership Academy, visit www.cic.edu/SeniorLeadershipAcademy.
-Office of University Communications
About Wittenberg
Repeatedly recognized by the Princeton Review for its professor accessibility, superior classroom experience and longstanding commitment to sustainability, Wittenberg is a nationally ranked university for the liberal arts and sciences affiliated with the Evangelical Lutheran Church in America. A leader in providing an active, engaged learning environment defined by excellence in academics, innovation, student success, service and athletics, Wittenberg was recently named one of Forbes' Top 50 Most Entrepreneurial Colleges. Additionally, the university currently has more Ohio Professors of the Year than any other four-year institution in the state and recently earned a spot on the "Best Buy" list in the 2017 Fiske Guide to Colleges. For more information, visit www.wittenberg.edu.
About CIC
The Council of Independent Colleges (CIC) is an association of 768 nonprofit independent colleges and universities and higher education affiliates and organizations that has worked since 1956 to support college and university leadership, advance institutional excellence, and enhance public understanding of private higher education's contributions to society. CIC is the major national organization that focuses on providing services to leaders of independent colleges and universities as well as conferences, seminars, and other programs that help institutions to improve educational quality, administrative and financial performance, and institutional visibility. CIC conducts the largest annual conferences of college and university presidents and of chief academic officers. CIC also provides support to state associations that organize programs and generate contributions for their member colleges and universities. The Council is headquartered at One Dupont Circle in Washington, D.C.