Professor Attends Television Arts & Sciences Faculty Seminar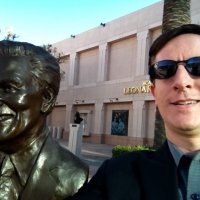 Matthew Smith, Professor of Communication, traveled to Los Angeles for a week long seminar as a fellow of the 24th Annual Academy of Television Arts and Sciences Foundation Faculty Seminar.
The seminar allows educators from across the nation special access to behind-the-scenes television creation, from set design to editing to producing.
Smith with a bust of Bob Barker
"All too often, popular attention is focused on actors and, to a lesser extent, writers, but there are so many more opportunities," said Smith. "I want to bring this message back to my students interested in careers in media.
Highlights from Smith's experience include meeting John Schaffner, who designed the set of "Friends," and touring the set of "The Big Bang Theory" on the Warner Brothers lot.
"I also enjoyed meeting John Leverence, who has coordinated the primetime Emmy Awards since 1981," added Smith. "As someone who teaches a course in television history, getting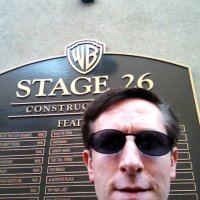 to meet living history was a thrill."
But what makes television such an interesting field and why is it worth studying?
"Television is still one of the most powerful, and popular, media for communication of ideas," explained Smith. "Yes, we have more media to communicate through than ever before, but TV still rules the roost when it comes to storytelling."
For more
Smith outside the Warner Brothers studios, where Big Bang Theory is filmed
information about the Academy of Television Arts and Sciences Foundation, please see their website:  http://www.emmysfoundation.org/faculty-seminars
 By Shelly Gregory, 2013