Studios and Galleries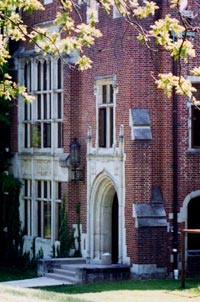 Koch Hall, in the historic heart of campus, was built in 1929. In 1980 it was designated to the Art Department, housing dedicated studios for graphic design and photography on the third floor; painting and drawing on the second; printmaking and smart classrooms on the first, and sculpture and ceramics on the basement level.
The first floor also houses the Ann Miller and Thompson galleries and an extensive image library. The galleries are open from 9 a.m. to 5 p.m. weekdays or on weekends by appointment.
Seniors are given studio spaces for the duration of the senior thesis.