Faculty and Staff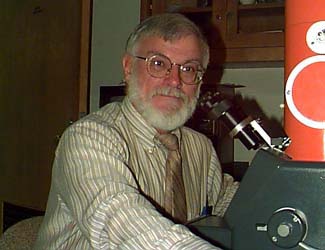 As an undergraduate, Dr. Mason developed an interest in the disease process. During his graduate years, his focus was on the study of plant diseases, employing both light and electron microscopy to trace the development of the pathogen in the host tissues. As a young professor at Wittenberg, he continued his study on plant disease in conjunction with an investigator at the United States Department of Agriculture, and he published articles on plant diseases.
Dr. Mason specializes in the area of cancer research. Recently, he has worked with students on various cancer research projects employing electron microscopy, immuno-detection, and DNA evaluation of selected cancers. Over the years his students have presented on various types of cancers at the Ohio Academy of Science including: Cancers of the Lung, Hormone Producing Tumors, Sarcomas, Cancers of the Brain and Central Nervous System, Thyroid Cancers, Leukemias, and Lymphomas. In addition, he has worked with students on scanning electron microscopy (SEM) projects on various insects including the White Fly and the Drain Fly for presentation at the Ohio Academy of Science meetings.
In 1986 he received the Alumni Association Award for Distinguished Teaching. In 1989 he was chosen by the Association of Independent Colleges and Universities of Ohio to receive the distinguished research award. In 1990, he was named the Council for Advancement and Support of Education (CASE), Ohio Professor of the Year, and in 2001 he was awarded the George L. Greenawalt Chair in Biology at Wittenberg University. In addition to teaching Electron Microscopy/Histology, he also teaches Survey of Human Disease, Nonvascular Plants, and Biology 110. For many years he has worked on cancer research in conjunction with Community Hospital in Springfield and other hospitals in Ohio. Besides having helped with the diagnosis of over 600 cases of cancer in the area, he has written or co-authored more than ten publications on the subject. Much of his work has been presented in conjunctions with pathologists at Community Hospital at international cancer and pathology conferences in Budapest, Vienna, Madrid and Costa Rica, and at national conferences throughout the U.S. In 1982 the cancer team received national recognition from the American Society of Clinical Pathology and the College of American Pathologists. Mason earned his B.S. from Edinboro State College, and his M.S. and Ph.D. from the University of Wisconsin-Madison. He joined the Wittenberg faculty in 1969.
Courses
Biology 110, Survey of Biology
Biology 234, Morphology of Nonvascular Plants
Biology 328, Electron Microscopy