Biochemistry/Molecular Biology Program
-- Jointly offered by the Biology and Chemistry Departments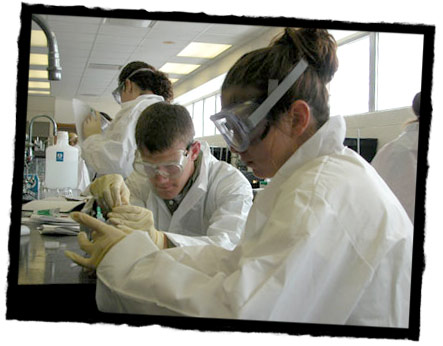 Biochemistry and molecular biology focus on the intersection of biology and chemistry, and include the study of dynamic cellular systems, regulation of gene expression, and the chemistry of the metabolic pathways in living things. These fields utilize many of the research methods used in the study of chemistry and biology, as well as the quantitative and analytical components found in mathematics and computer science.
At Wittenberg, students who pursue a major or minor in biochemistry and molecular biology (BMB) receive the best that both the biology and chemistry departments have to offer, from outstanding labs using the latest equipment to a diverse set of courses. Our emphasis on teaching and small class sizes guarantees you personal attention and hands-on experience in the classroom, labs and research projects.
The study of biochemistry and molecular biology can lead to a wide variety of careers. Many of our students use the BMB program to develop a strong foundation in the sciences in preparation for a career in medicine or another health profession. Others are interested in molecular genetics and careers in genetic counseling. Some combine a major in BMB with a minor in Wittenberg's cutting-edge computational science program to form a foundation for a career in bioinformatics, a growing field.