Executive in Residence
Strachota Uses Humor to Encourage Students to Consider International Business Options
November 16, 2009
Many Executive-in-Residence presentations are serious presentations on serious topics, but Steve Strachota, '90, chose a different approach to engage students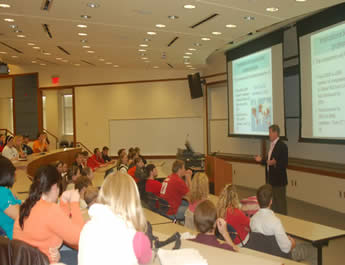 and faculty—humor. As the business department's first Executive-in-Residence of the 2009-2010 academic year, Strachota spent November 11 and 12 on campus, speaking in four classes, sharing two lunches with students, delivering a keynote address to 75 students and faculty, and sharing dinner and discussion with faculty and students.
Strachota's keynote presentation, Working and Living Internationally, featured stories and lessons from his international experiences. Having travelled to more than 45 countries and lived internationally for the past 11 years, Strachota proved a very
knowledgeable resource for students who are thinking about working internationally.  He grabbed and retained the attention of his audience by retelling his international business experiences across multiple continents.  As explained by Sophea Khun '10, who introduced him, Strachota accepted his first post-graduation position with Proctor and Gamble in Cincinnati as an auditor.  While working for P&G in Europe, this husband and father of two young boys completed his MBA at Duke University.  Strachota went on to work for confectionary giant Cadbury spending his past 5 years in Russia. 
Strachota shared life lessons with students including urging them to challenge themselves in everyday life and to stretch 'muscles' they never even knew they had.   He claimed that while working internationally has many challenges that the rewards are far greater than any challenge.  Strachota learned new cultures, new ways of life, and new ways of conducting business by choosing to think of the work place as global rather than domestic. His highlights of the importance of the BRIC countries (Brazil, Russia, India and China)—where companies are "spending their money and sending their talented employees"—gave students specific areas to think about.
As students embark on their journeys after graduation, Strachota encouraged them not to be afraid of failure.  He claimed everyone will fail at one point, but the challenge is to learn from those failures and use the experiences for future success.   Strachota explained that the life experiences gained by challenging himself, a boy raised in Des Moines, Iowa, to leave the United States are more important than having the comforts of home. He challenged students to study abroad and think of becoming an expatriate and work internationally. 
By Kerry Siddens, '10