Executive In Residence
Wittenberg's Business Department Welcomed Financial Entrepreneur Marty Uhle,'85
November 10, 2010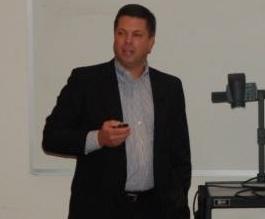 Springfield, OH – Wittenberg students and faculty gathered in Kissell Auditorium on Tuesday, November 9th to hear Marty Uhle, President and CEO of Vantage Financial Group Inc., this fall's Business 2010 Executive-in-Residence. Uhle's keynote lecture was a humorous look at his wild ride from banker to entrepreneur and all the legal and political potholes along the way.
Mr. Uhle's industry experiences included a position as Senior Vice President of the KeyBank Payment Services Division in Cleveland, and also as Chief Operating Officer of Unified Merchant Services, a NationsBank/First Data joint venture based in Charlotte, NC. Uhle then served as President and Chief Operating Officer of Heartland Payment Systems, Inc. (NYSE symbol HPY), and its predecessor, HPS, LLC, from November 1998 to October 2004.  During this time, he also was instrumental in establishing the North Olmsted, Ohio-based Heartland Payroll Company, a wholly owned subsidiary of Heartland Payment Systems.
Along with hearing about Uhle's career path and accomplishments, he also shared advice for students who will be entering the work force. He encouraged students to consider themselves as a start-up enterprise and to keep their overhead low—no fancy cars, expansive wardrobes, or high-value mortgages. Uhle stated it was important to remember the EX-factor: gain EXposure, relevant EXperience, and compile EXamples of your skills. These factors will help students stand out among their peers and will help them to get a job. He also encouraged students to pay attention to politics and legislative activities, for these will have an impact on the job hunt. Uhle's final advice was to avoid falling victim to negative on-line exposure through social networking. Employers are watching.
Uhle's presentation was followed by a dinner with a small group of students and faculty. The next day he made presentations in the financial management classes at Wittenberg discussing various financial topics and job market issues.
Uhle is no stranger to Wittenberg University being an active member of the Wittenberg Board of Directors. He also has two sons, Steven '13 (major: business) and Ryan '11 (major: financial economics), attending Wittenberg.  Uhle's father and brother Chris also attended Wittenberg. 
-END-
By: Katherine Martin '11
The Business Executive in-Residence program, begun in 1978, brings business executives to campus to spend face time with business majors and minors.  Executives spend one or two days sharing insights in numerous classes and also deliver a keynote address to all business majors and guests. Executives,  drawn from all fields of business, all sizes of businesses, and representing various levels in their business careers, also share meals—and career advice—with students.