Faculty & Staff: Wendy Gradwohl
"[Dr. Gradwohl] helped me to develop my leadership skills and to integrate into Wittenberg University. I don't know that I would have succeeded in the way that I have had it not been for [her] help. I have nothing but fond thoughts of [your] class and of your help with regard to advising. You really had a large impact on my first year and I don't want that to go unnoticed. Again, thank you so much for everything you've done for me."  Michael Southard, '17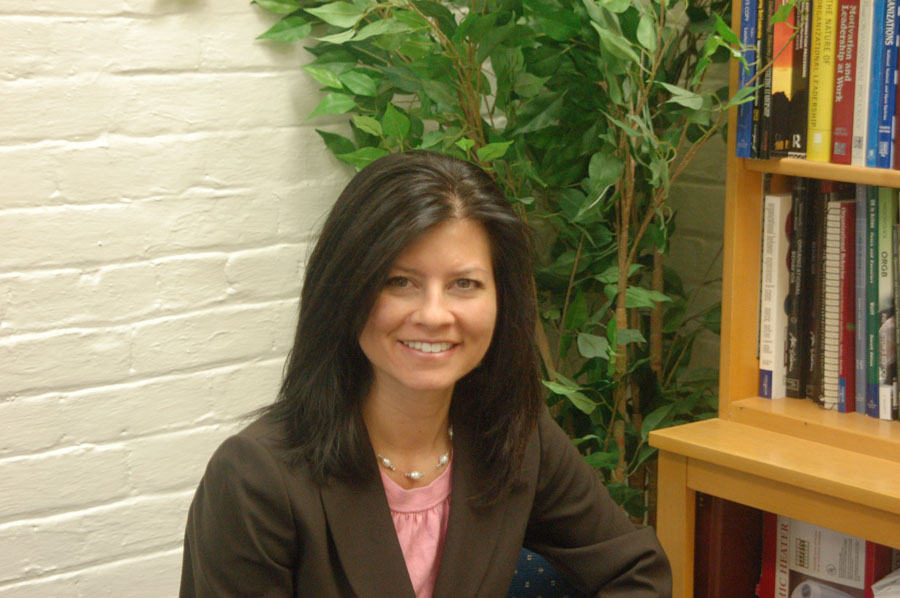 Awards and Recognition
2013 Distinguished Teaching Award
2011 Witt Woman of the Year Award
Member of the Society for Human Resource Management (SHRM)
Member of the Society for Industrial/Organizational Psychology (SIOP)
Member of Springfield Human Resources Management Association (SHRMA)
Courses Taught
BUSN 211 - Business Research Methods
BUSN 365S – Leading and Managing Effective Organizations
BUSN 465S – Human Resource Management
BUSN 381 – Applied Business I
BUSN 481 – Applied Business II
Academic Background
B.S.       Bowling Green State University, 1991
M.A.       Industrial/Organizational Psychology, The University of Akron, 1993
Ph.D.     Industrial/Organizational Psychology, The University of Akron, 1997
Publications
•  Gradwohl, W., & Young, C. (2003). Building student teams: Tools for success. Journal of the Academy of Business Education Proceedings  •  Smith, W. G. , & Salter, R. S. (2002). Women in another world: Expatriate managers. In G. R. Ferris, M. R. Buckley, & D. B. Fedor (Eds.), Human resources management: Perspectives, context, functions, and outcomes (4 th ed.). Englewood Cliffs, NJ:   Prentice-Hall.
•  Lewis, P., Beal, S., Facteau, J., Smith, W. G. , O'Leary, V., Burkhart, B., Weathers, F., & Vuchinich, R. (Eds.). (2000). Illuminating human behavior. Boston , MA: Pearson Custom Publishing.
•  Lewis, P., Beal, S., Facteau, J., Smith, W. G. , O'Leary, V., Burkhart, B., Weathers, F., & Vuchinich, R. (Eds.). (2000). Readings in Psychology and Culture. New York: McGraw Hill Companies, Inc.
•  Lord, R. G., & Smith, W. G. (1999). Leadership and the changing nature of performance. In D. Ilgen & E. Pulakos (Eds.), The changing nature of performance: Implications for staffing, motivation, and development. San Francisco: Jossey-Bass.
Research Interests
Dr. Gradwohl's recent research interests include emotion regulation within team settings, transformational leadership within sports teams, and management education.
Professional Background
Prior to joining the Wittenberg faculty, Dr. Gradwohl taught at Auburn University within the Department of Psychology for four years.   She has worked with a variety of organizations to improve their HR processes such as developing integrated HR functions, conducting job analysis, developing employee selection systems, creating training and experience modules for career progression, and conducting management team training.
Other Interests/Info
Having a strong interest in athletics, Professor Gradwohl currently serves as Wittenberg's Female Faculty Athletic Representative to the NCAC/NCAA.   She is an avid runner who has completed four marathons and hopes to run a half marathon in all 50 states.   Dr. Gradwohl also loves to travel and has had the opportunity to visit Africa, China, Italy, Japan, South Korea, and Spain.
Quote
"I can do all things through Him who strengthens me." Philippians 4:13
'For I know the plans that I have for you,' declares the Lord, 'plans for welfare and not for calamity to give you a future and a hope.' Jeremiah 29:11