Springfield Women's Fund
WittConsultants complete identity project for new Women's Partnership Funds of Clark County
April 22, 2010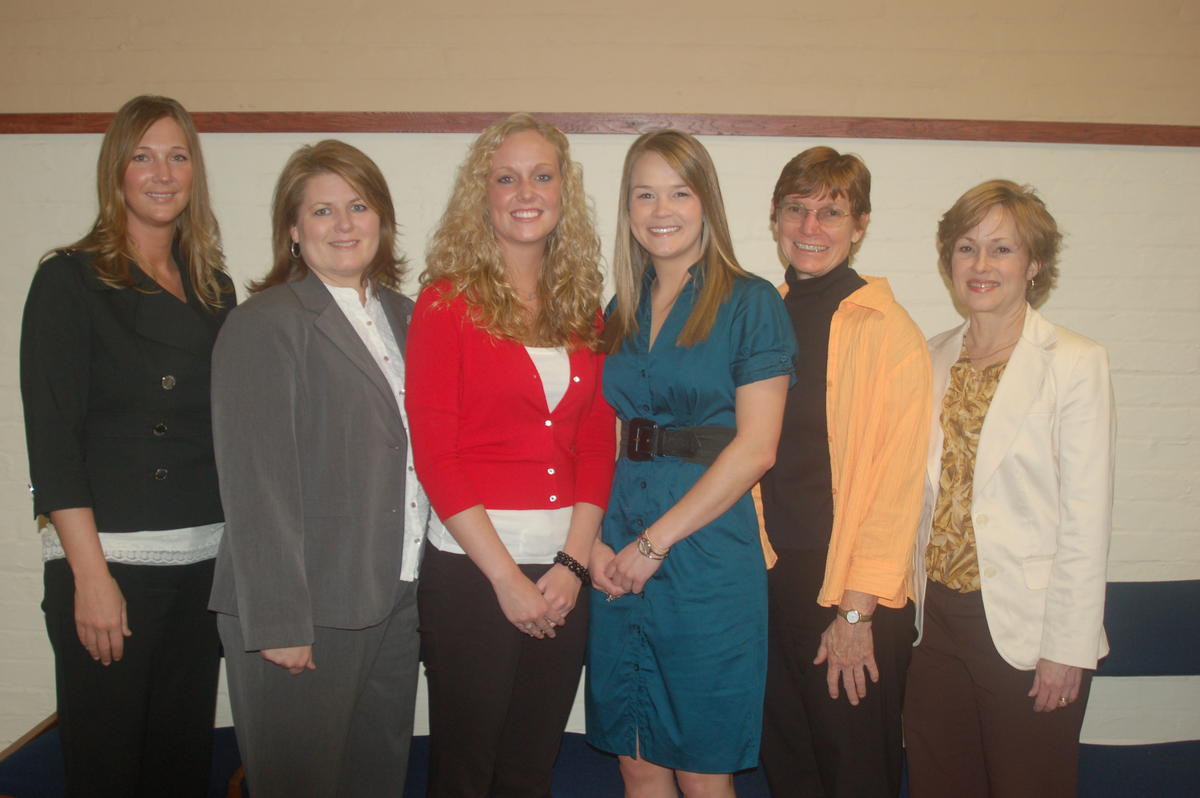 Springfield, OH- Throughout the spring 2010 semester, WittConsultants Kelley Herde and Katherine Martin worked to clarify the identity and messaging in preparation to help launch an affiliate fund of the Springfield Foundation (pictured above: Kristin Davis, Susan Carey, WittConsultants Katherine Martin and Kelley Herde, Mel Marsh, Joan Elder) The team worked with the steering committee with the goal of creating a unique name, logo and tagline for the fund. The WittConsultants conducted research on the fundraising practices of local non-profit organizations, along with women's giving tendencies toward non-profit organizations both within and outside the community. The research will be used to focus the fund's initial fundraising efforts following its official launch. Upon completing an extensive study of corporate identity of local, regional and national non-profit organizations, the team proposed several names, taglines and logos for the fund…The Women's Partnership Funds of Clark County.
 Meet the WittConsultants
Kelley Herde '11, from Louisville, KY, is a third-year-honors student and a management and Spanish double-major. A dedicated member of the varsity field hockey team, she has served as captain since the 2009 spring season. Along with being a member of Phi Beta Kappa and Omicron Delta Kappa academic honor societies, Herde was recently honored with the Dr. Woodrow Wilson Prize for Excellence in Management and named a Presidential Scholar for the 2009-2010 academic year. In addition to acting as a peer mentor for the Marketing Management course, Herde works in the Office of Admission at Wittenberg, planning and executing campus visit days. She has volunteered at Springfield Christian Youth Ministries' Girl Power, Kentucky Refugees Ministries and her home parish, Church of the Ascension. This summer she will participate in an internship in Wittenberg's Center for Civic and Urban Engagement, working on the Engaging the Community project. After an early graduation in December, she plans to use her marketing concentration to pursue a career with an advertising agency in Louisville.
 Katherine Martin '11 is a junior management major with a concentration in marketing and a communication minor from Columbus, Ohio. Currently working at the Wittenberg Solution Center as an information technology assistant, she installs and repairs PC software and network connections. Her job also requires her to help users with questions and problems they have with the Wittenberg University computers and printers. Martin is an active member of the Alpha Nu chapter of Gamma Phi Beta Sorority serving as the web page designer, where her responsibilities include updating the chapter's website, being sure it is kept current and appropriate. Martin has served previously as social chair, where her responsibilities were to organize and execute social events. She also is involved with non-profit organizations including Relay for Life, On the Rise, Camp Fire USA, and the ALS association. Martin's future aspirations include working for a marketing corporation or pursuing a job in event management.
-END-
Wittenberg Center for Applied Management (WittCAM): The Wittenberg Center for Applied Management, better known as WittCAM, offers alternative coursework to upper-level students who are focused in management. As an alternative to a classroom-based course, WittCAM provides students with the opportunity to serve as consultants to businesses, government agencies and not-for-profit organizations. Students and organizations have a choice of opportunities, including: Small Business Institute, WittConsultants, Business Internship, and the Creative Advertising Partnership. Students may work in groups or as individuals on projects. Some projects require specific business course prerequisites; these vary depending on the nature of the project. Directed by Professor Pamela Schindler and with the help of two student directors, more than 480 students have been involved in WittCAM projects since 1975.