Ali Wice '14 Studies Abroad In Japan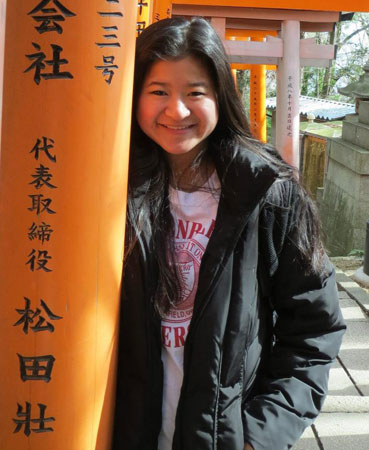 My experience in Japan has been everything I expected and more! I have traveled to numerous parts of Japan, taking in all the sights and culture that I can.  I have been making the most of this experience. The thing that I find most tedious and difficult is the transportation system. If anything was financially breaking my bank, I would have to say it is taking the buses, trains, and subways. No wonder the Japanese people are so skinny…since transportation is so expensive they mostly walk and bike everywhere.
I was taken aback by how polite everyone was. I knew they were polite, but living here for four months has really put it into perspective. For example, I have gotten lost numerous times.  Each time all I had to do was ask someone and they would do everything or anything they could to help, like actually accompany me to the destination, even if it was out of his/her way or not in his/her intended direction.
This is quite a cultural contrast to the United States; people don't show as much consideration to strangers.  I've also noticed how respectful and disciplined Japanese people are. I joined the track team and noticed that every time they would enter the track, they would bow and greet it as if it were a person. They followed the same practice when they left the track. I found that odd, but very respectful. On top of that, they do practices on their own without a coach! They are willingly putting themselves through workouts that teammates or the captains come up with. To me, that is a lot of responsibility for a student, but shows a great deal of dedication.
I also forgot to mention that it takes a half an hour by bus each way to get to the track for some students, and yet they come faithfully every day. They practice five times a week after school from 5pm to when the bus comes to pick us up (around 7:45pm).  Then it takes another 10-20 minutes to get home, depending on how far away they live. I have met a ton of people both local and international. They are all able to tell me about their country, culture, and language. Along with meeting different people I have also had to deal with many different personalities along the way. They have been both good and bad, but it has taught me to stay in control of my emotions and actions.
I know that many times in my life this will occur again. In the business world, you are expected to deal with and even manage many people, including people from other countries. Studying in Japan has not only helped me improve my Japanese speaking and writing skills, but also my people skills.  I feel I have gained skills that will benefit me for the rest of my life.