The Intersection of Hashtags and Hires
November 19, 2013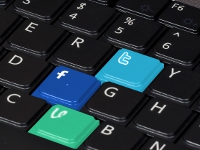 Springfield, OH – Linda Gillis and Shannon Wahl came to educate undergraduate students about the importance of a healthy social media presence and how employers are using social media as a step in the hiring process.  With the increased presence of social media among the younger population, employers are finding that background checks through social media can reveal some undesirable characteristics of a potential hire.
Gillis, an HR Representative from Red Roof Inn, expressed her concern with our generation's image on social media sites such as Twitter, Instagram, and Facebook.  The current college student believes in freedom of speech, and is carelessly posting thoughts and pictures on these sites. She recommended that the audience should run a web search of themselves to be aware of what employers will see if they were to do the same thing during the hiring process. She also provided tips on what type of posts are turn offs to employers.
Wahl, an employee of the Martin, Browne, Hull & Harper PLL law firm, informed all attendees that employer screening using social media is not mentioned in any employment legislation or law. Therefore, it is completely legal for an employer to terminate someone's job based on information derived from social media screening.
This event, sponsored by Career Services and Wittenberg Human Resource Management Association (WHRMA), reminded all undergraduate students seeking internships or full-time employment that it is important to remember a post on social media today can affect your future career.
- Francine Murzynski '14