C.A.B.L.E. Tackles Coca-Cola and FitWit Case Studies
November 21, 2013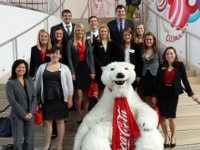 Springfield, OH - Members of C.A.B.L.E. (Communication and Business Leadership Experience) took advantage of their fall break to travel to Atlanta, Georgia and present to executives of Coca-Cola or FitWit.  Students had eight weeks to prepare their response to the corporate case study given to them at the beginning of the semester.
The Coca-Cola team presented a case study to ten personnel representing Marketing, Sales, Finance, and Retail departments of World of Coca Cola. This case study challenged the students to develop a marketing plan that would tie the virtual world to the physical World of Coca-Cola guest experience through social media resulting in positive mentions through these channels. The team worked together to develop two ideas to implement this strategy, and their presentation was well received by the Coca-Cola team.  A great deal of positive feedback was provided during the Q&A session, and the Coca-Cola employees wanted to incorporate some of the C.A.B.L.E. members' ideas into their existing plan.
The FitWit team presented a communication/marketing plan for this non-profit organization. FitWit aims to partner the working class of Atlanta with the underprivileged youth through a mentor program that is centered around being active. This communication/marketing plan was adapted by the FitWit team in order to grow their Foundation through social media channels such as Facebook and Twitter. The team even designed YouTube "how-to" videos for the organization to spread awareness about the mission of FitWit.
While in Atlanta, the C.A.B.L.E. members were hosted by alumni including Scott McCune '79, World of Coca-Cola; Josh Guerrieri '01 and Ben Thoele '02, FitWit; and Mike Budney '05, Turner Broadcasting.  The group also attended a networking dinner and toured the Georgia Aquarium where they met with the Special Events Coordinator and Director of Sales for the Wolfgang Puck Catering Company.
Overall, this experience delivered exactly what the C.A.B.L.E program is designed to provide : the students gained experience in professional presentation, while they received feedback and advice from successful business experts.
The members of C.A.B.L.E. include Tyson Agler, Elizabeth Brake, Julia Devine, Regina Gasser, McKenzie Hopkins, Lindsay Janmey, Nicolette Lyons, Kathleen Murphy, Francine Murzynski, Matthew Pfouts, and Chloe Tippmann. The program advisors are Dr. Wendy Gradwohl, Department of Business, and Dr. Matthew Smith, Department of Communication.
- Chloe Tippmann '14 and Francine Murzynski '14