WittConsultants Propose Finalists for 2014 Entrepreneurial Business Award
December 10, 2014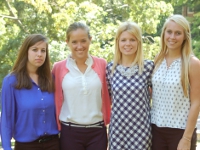 Springfield, OH—Wittenberg University WittConsultants Sarah Guilloteau, Kim Loofbourrow, Beth Hubbard, and Logan Warye spent fall semester researching innovative businesses within Clark and Champaign Counties. They began the semester developing a nomination panel comprised of business and community leaders. This panel recommended twenty-three businesses for consideration for the 2014 Entrepreneurial Business Award.  This was the second largest number in award history.
Since receiving the nominations, the team has been diligently researching each business through phone-screens, on-site visitations and industry research. On December 4, the team recommended three finalists to the Award's managing partners.  The managing partners voted that the finalists for the 2014 EBAward are Hays Fabricating & Welding, Wilt PR, and Michael Farms.
Hays Fabricating & Welding is leading the way with fabrication and manufacturing in Springfield, putting the customer first when it comes to custom machining projects.  By expanding their manufacturing capabilities, Hays is now known for their problem-solving capabilities and exceptional quality.
Wilt PR, working out of the Tuttle Building in downtown Springfield, provides public relation solutions and training programs for local businesses.  Most recently, their work with Airpark Ohio, the Clark County Park District, and the Community Mercy Foundation have put them in the running for the EBAward.
Michael Farms, the first Ohio farm to install a center pivot irrigation system, has grown to be the largest vegetable farm in the state, covering 3000 acres in all.  Combining years of experience with the best technology the industry has to offer, the family-oriented farm based out of Urbana, Ohio leads the way in fresh vegetable production.
The judging panel will convene on January 28 to select a winner for this year's award.