Hogenkamp Revamps Business Department Website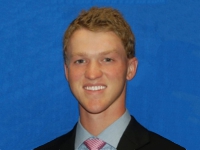 November 9, 2013
Springfield, OH—In collaboration with Wittenberg Business Professors Kaplan, Bode, and Schindler, Ben Hogenkamp has been making substantial improvements to the business department website.  Hogenkamp began his work in late August, and has completed many different projects in effort to attract prospective students to the business department.
Hogenkamp's work can be seen at the very fore-front of the website with the electronic billboards that headline the homepage.  But many small changes have been made as well to improve continuity, consistency, and overall visual cleanliness.  His efforts show how the department's insistence on improvement and expansion can change any student's learning experience at Wittenberg.
And he has learned more than just web building through Drupal—a very common web design platform.  Hogenkamp's real learning experience comes from managing the expectations of professors that oversee his work.  Every week he reports his progress to a team of professors who have differing opinions on tasks at hand.  Moreover, much of his work is also monitored by the University's web staff who provides guidelines and limitations to promote consistency across all the university's department web pages.
Balance in his busy schedule has been key with his work.  In addition to his website work, he is better known for his captain position on the university's number-one-ranked golf team in Division III of the NCAA.  Additionally, he has excelled in the class room, earning Dean's List Honors and Academic All-American Honors for the 2012-2013 academic year.  His demanding schedule challenges him to exceed expectations on a daily basis, and he enjoys every minute of it.
Hogenkamp will continue with his efforts on the website until his anticipated graduation in May.  Between now and then, his group of advising professors has big plans for the website.  He is constantly learning and applying valuable skills like video editing, graphic design, and story writing.  With these new skills, the website will continue to improve, and he and his team of professors hope see these major changes attract new students in the near future.