Scholar in Residence
Dr. Paul Sweeney addresses the issue of Organizational Justice.
October 28, 2010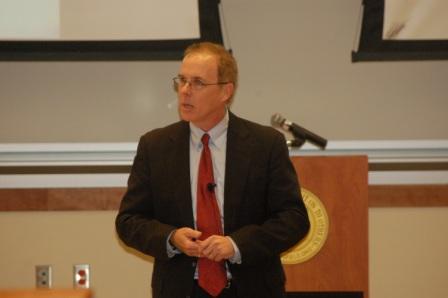 Springfield, OH –Wittenberg students and faculty gathered in Bayley Auditorium on Wednesday, October 27 to hear Dr. Paul Sweeney, professor of management at the University of Dayton and the fall 2010 Business Scholar-in Residence, deliver a keynote lecture on Organizational Justice: What is it and Why You Should Care. This semester's program was co-sponsored by Wittenberg Human Resource Management Association, a student chapter of SHRMA. 
Student President of WHRMA, Vinisha Lal '11, introduced Dr. Sweeney and listed some of his many accomplishments which include more than 100 publications including several books, former Associate Dean, School of Business Administration and service on the editorial boards of Journal of Management and Academy of Management Journal.
Dr. Sweeny's presentation started with an overview. He defined organizational justice as, "the judgment that you've been fairly treated by your organization." Sweeney claimed it is important to know that organizational justice is more than just getting what you want and is made up of three components, which consisted of distributive fairness (outcome fairness), procedural justice (allocation process) and interactional justice (treatment by others). These three components were further explored and were the focal points of his lecture. Sweeney backed up his components with interesting research and examples that everyone could relate to.
When exploring distributive fairness, Sweeney talked about how to determine if your pay is fair. He stated that this is complex and pay fairness is in the eye of the beholder. Dr. Sweeney's main point in determining what you are worth is to do social comparisons. He advised Wittenberg seniors to do their research and use social comparison because you are going up against HR professionals, and stated that you can't beat people who do this for a living without knowledge of what you are worth.   
Sweeney presented many different studies focusing on if procedural and interactional fairness even matter in an origination. After revealing the results of these studies, he revealed that procedural and interactional fairness does in fact make a great deal of difference. He proved that fairness predicts many organizational outcomes in commitment, withdrawal behaviors, absenteeism, turnover rate and people's view of leadership. Some of the more interesting studies he shared were about employee theft and whether employees sue after wrongful termination. It was concluded that thief and sue rate went up in employees who thought they were treated unfairly in procedural and interactional justice. 
Dr. Sweeny ended his lecture stressing the reasons why fairness in the workplace matter and that treating employees fairly leads to a number of positive outcomes.
The keynote was followed by a dinner where faculty and students got a chance to get to know and ask more detailed questions to Dr. Sweeny.
-End-
By: Katherine Martin '11
The Wittenberg Human Resource Management Association (WHRMA) is a resource for students to understand what Human Resources is and how it plays a major role not only in Business Management but in our personal life as well.