Executive in Residence
Wittenberg's Business and East Asian Institute Programs welcome International business Leader.
March 31, 2010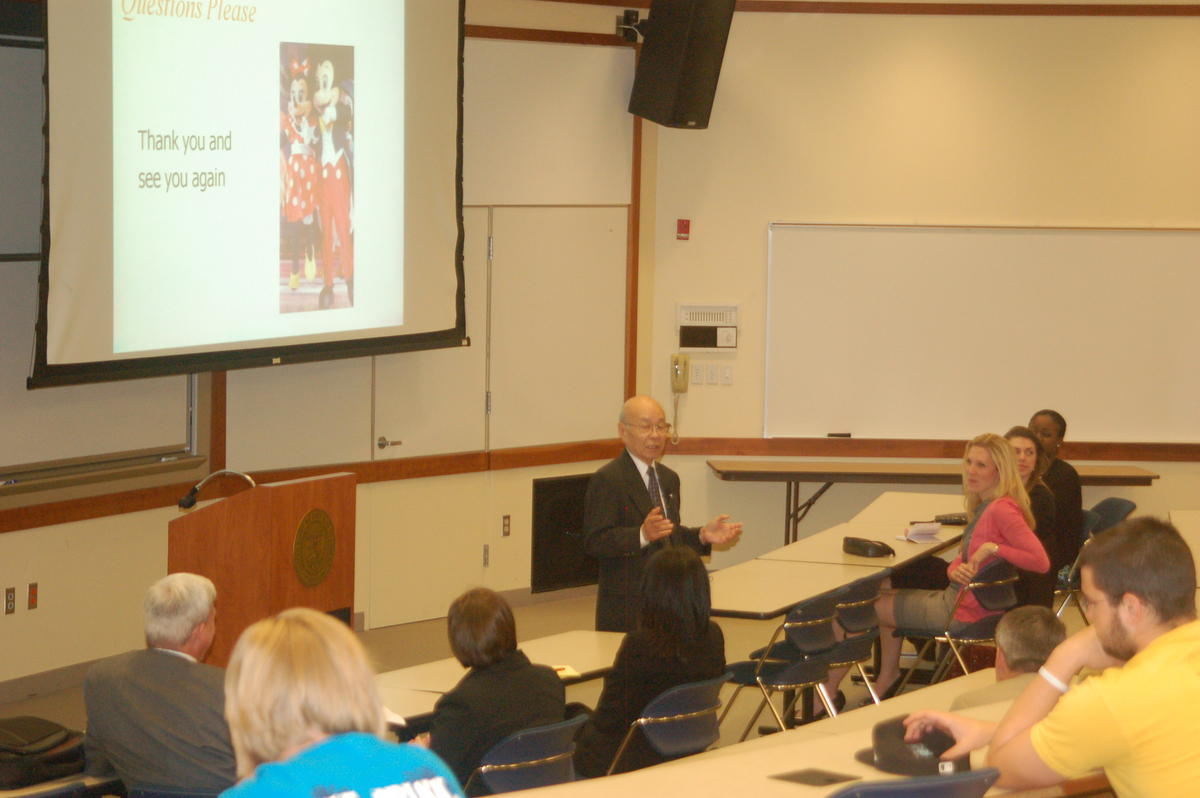 Springfield, OH—Mr. Toshikata Amino, former executive vice president of Honda of America Manufacturing, Inc., served as the Business Department's spring 2010 Executive-in-Residence. Mr. Amino spent his time on campus engaging with students over lunch; presenting his keynote lecture to an auditorium full of students, faculty, staff and visitors; and enjoying dinner with a group of students and faculty.
Mr. Amino's keynote lecture, How to Maintain Entrepreneurial Spirit in a Big Company Like Honda, was introduced by Karen Stover, a senior management major with a minor in East Asian Studies. The presentation covered a variety of stories, tips, and lessons learned throughout his 40 years of international business experience. Amino, who began his career with Honda in 1966 as a sales representative, worked his way up through various positions to executive vice president for Honda of America Manufacturing, Inc in 1987. He remained in this position until his retirement in 1995. Amino pursued work in academia after his retirement, serving as Executive-in-Residence at Ohio Wesleyan University and the Ohio State University, as well as Distinguished Fellow at The Ohio State University's Fisher College of Business. In Japan, Amino serves as a visiting professor and special assistant to the president of Kansai University.
The experiences in academia and accomplishments throughout his career at Honda have made Amino a source of entrepreneurial knowledge. During Amino's keynote presentation, he discussed factors that prevent entrepreneurism and how to avoid these factors. Amino warned the audience to avoid walls within organizations, internal comfort zones, "do nothing" attitudes, and slow-moving decision making processes. He explained that these factors can be avoided by motivating each employee to contribute, providing an environment that encourages employees to speak up, and stimulating an entrepreneurial spirit. Amino discussed the specific entrepreneurial program at Honda called the VIP (Voluntary Improvement Program). This program encouraged product improvements, safety improvements, and offered awards for such improvements. The employees who won the improvement awards were visited by the company's executives and invited to the VIP banquet.
Amino introduced many valuable ideas and lessons to the Wittenberg community and encouraged the students and faculty to oppose current practices and stimulate ideas. He believes ideas are seeds and need to be nurtured and encouraged to grow. Amino's lecture promoted entrepreneurship being possible wherever improvements and ideas are supported. He also encouraged and challenged students to speak up when they have ideas and to always think that one idea can make a difference in a company.
-END-
By Julianne Lininger
About the Executive-in-Residence Program: Started in 1977, the program is designed to offer students the opportunity to learn from seasoned executives in a variety of industries and positions. The first executive was the president of Parisian Stores and part of the American Marketing Association's shared executive program. Since then, executives have represented advertising agencies, financial institutions, wholesalers, sales organizations, logistics companies, greeting card companies, and accounting firms, to name just a few. Executives typically spend one or more days on campus, usually sharing lunches and dinners with students, teaching several classes, holding career chats, and delivering a campus-invited keynote. The Business Department generally hosts one executive-in-residence each semester.