AVETEC
WittConsultants congratulated for excellent ideas by AVETEC.
May 5, 2011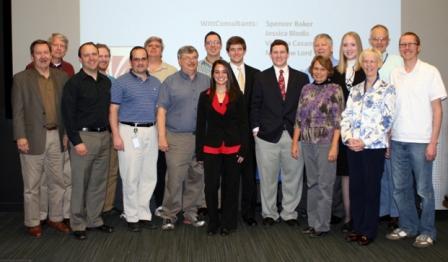 Springfield, OH—Over the course of the semester, WittConsultants Spencer Baker, Jessie Blodis, Victoria Casanta, and Matt Lord developed comprehensive marketing strategies and tactics to assist AVETEC with the marketing of its new fiber network, USA40Net, that focuses on high-speed information transfer. The WittConsultants researched similar networks around the country and analyzed existing marketing tools in order to complete a SWOT analysis and develop six strategies and multiple tactics concerning the marketing of the new network. With the help of the WittConsultants, the firm should experience increasing promotional benefits.
Cathy Balas, project manager for AVETEC, indicated she liked how detailed and targeted the recommendations were, and that each could be executed within their budget. Dr. Al Stutz shared that AVETEC wouldn't have come up with the ideas themselves, but that he could see how they would complement what they were already doing. He thanked the group and provided each member with a high technology token of AVETEC's appreciation for the team's "hard work and great ideas."
Spencer Baker, WittConsultant member, said, "I enjoyed working with AVETEC and WittCAM because if gave me an opportunity to apply concepts that I learned in the classrooms at Wittenberg."
Victoria Casanta, Class of 2011, said, "AVETEC was a great company to be paired up with for this WittCAM project. I learned a lot about project management and teamwork!"
Meet the WittConsultants:
Spencer Baker '12 is a junior student-athlete at Wittenberg University, pursuing a business major with a focus in finance and a minor in economics. Baker is a member of the varsity lacrosse team at Wittenberg and manages his time between his athletic schedule and a rigorous academic schedule. Baker is also a member of the Wittenberg WittInvest investment club as well as the Student Athlete Advisory Committee. In 2010, Baker completed a financial analysis of Procter and Gamble using the 2009 annual report in his Financial Management class. Baker is a goal oriented, driven individual who believes attention to detail is extremely important.
Jessie Blodis '11 is a senior business major with a concentration in marketing from a suburb of Pittsburgh, PA. Interested in marketing and advertising, this past summer Blodis completed an internship with Mr. Smalls Funhouse, a recording studio, concert venue, and skatepark in Millvale, PA. She was in charge of writing articles for the monthly newsletter, marketing the new VIP Balcony, helping coordinate two large events, managing the company's social networking site, and planning a staff community service day. Blodis is a member of Sigma Kappa Sorority and served as the vice president of membership and represented her chapter as first vice president of philanthropy on Panhellenic Council. She is also a member of the Tau Pi Phi National Honor Society in Business Management and Economics. After graduation, Blodis plans to pursue a career in marketing or advertising in New York City.
Victoria Casanta '11, from Mason, OH, is a business major and studio art minor.  Acknowledging her Italian heritage, Casanta studied abroad in Florence, Italy during her 2010 spring semester for four months, where she completed the majority of her minor.  As a hardworking and dedicated student-athlete, Casanta has been a four-year starter on the varsity field hockey team, receiving multiple athletic and academic honors.  Casanta has served as the event planner and treasurer for Athletes for Christ since the fall of 2009 and is also a representative for Common Ground, both being student organizations on campus.  Three out of four summers during her collegiate career, Casanta has interned in Mason, OH for Macy's Credit and Customer Services (MCCS) within the Retail Services and Credit Marketing departments.  In addition, she has shadowed a graphic designer, a marketing coordinator, and an event planner.  Casanta volunteered at Cincinnati Therapeutic Riding and Horsemanship, the Springfield Academy of Excellence, and Hayward Middle School and participated in events such as Relay for Life, Distance for Dreams, and the Alzheimer's Association Memory Walk.  Recently, Casanta landed a position as the Event Planning and Marketing Intern with BLOOM Africa, a non-profit organization.  Following her graduation in May 2011, Casanta plans to pursue a career that emphasizes skills in advertising, event planning, or marketing.
Matt Lord '11 is a senior student-athlete at Wittenberg University from Pickerington, Ohio studying business finance and economics. Lord manages a busy schedule and thrives under pressure.  During an internship with Merrill Lynch in the summer of 2010, Lord gained great experience within the financial industry.  He was voted captain of the lacrosse team after three years of proven leadership and success. Lord's primary interest is in finance and investments but also enjoys marketing and operations. He strives to achieve a C.F.A. designation during his professional career.  Lord's hobbies include golf, spending time with friends, and staying in shape.
-END-
Wittenberg Center for Applied Management (WittCAM): The Wittenberg Center for Applied Management, better known as WittCAM, offers alternative coursework to upper-level students who are focused in business. As an alternative to a classroom-based course, WittCAM provides students with the opportunity to serve as consultants to businesses, government agencies and not-for-profit organizations. Students and organizations have a choice of opportunities: Small Business Institute, WittConsultants, and the Creative Advertising Partnership. Students usually work in groups on projects. Some projects require specific business course prerequisites; these vary depending on the nature of the project. Directed by Professor Pamela Schindler and Associate Professor Wendy Gradwohl, with assistance from a student director and assistant student director, more than 518 students have been involved in WittCAM projects in the last 33 years.