Entrepreneurial Business Award 2011
2011 Entrepreneurial Business Award moves into its final phase
January 11, 2011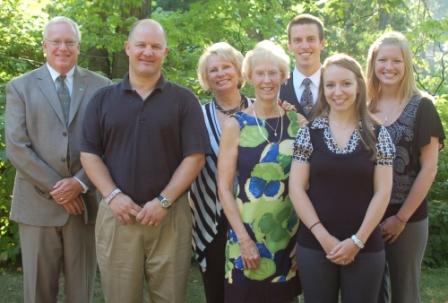 Springfield, OH – WittCAM project consultants Brendan Corrigan, Maggie Curtis, and Julianne Lininger spent the fall semester of their senior year working on collecting and reviewing nominees for the 2011 Entrepreneurial Business Award.  After implementing a successful public relations, advertising, and promotions campaign, the team received 21 nominations to evaluate based on the criteria for the award. 
The team began to narrow the list by reviewing the nominated company's websites and doing initial phone interviews.  After this process, the team was able to narrow the list and presented six companies to the managing partners; these six were deemed to be finalists because of the innovation and success that their companies have seen.  The team then visited these businesses and they were again assessed based on these site-visits.  The findings of the site-visits will be presented to a panel of business, non-profit and government manager-judges in January.           
The team will have a busy spring semester after the winner has been chosen as they will then write and produce a promotional video about the award, formulate a plan to promote the winner and the award and develop teaching notes to be used by local business and economic teachers.  The team looks forward to continuing the finalist process and is excited to see the outcome of the judging panel. 
Meet the WittConsultants:
Brendan Corrigan '11 is a senior business major at Wittenberg University from Westlake, Ohio. This past summer, he interned at American Wire and Cable working to improve the company's environment, health and safety management systems. At Wittenberg, he has successfully advertised and promoted Class of 2011 events as well as his own student senate and class elections. He can be seen giving campus tours and working in the business department.  He also serves as treasurer for the Class of 2011, Student Senate and Tau Pi Phi (business honorary society). Last school year, Corrigan was awarded Greek Male of the year and Alma Lux, the highest Wittenberg honor bestowed upon a junior male student.  After graduation, Corrigan plans to join a volunteer service group or attend graduate school for accounting.
Maggie Curtis '11 is a senior at Wittenberg University from Louisville, Kentucky.  She is a Business major with Political Science and Communication minors.  Working for the University Office of Admission, she organizes visits for prospective students, coordinating class, professor, and coach schedules with a campus tour.  She is active in Alpha Delta Pi sorority as the Finance Vice President, and works for the Business department on campus as a faculty aid.  She also participates in intramural athletics and has captained teams in dodgeball, volleyball, and basketball.  The summer of 2009, Curtis spent six weeks in Bregenz, Austria where she studied Business Ethics and was able to travel throughout Western Europe.  She has completed a WittCam project for TorchAds, selling and creating advertisements for On-Campus organizations.  In the future she hopes to pursue a career in marketing and advertising.
Julianne Lininger '11 is a senior management major with a minor in statistics from Springfield, Ohio. She currently serves as student director of Wittenberg's Center for Applied Management (WittCAM) and as treasurer of Wittenberg's Habitat for Humanity. Lininger has gained experience in public relations and advertising through her roles in WittCAM and Habitat for Humanity.  In addition to her job at WittCAM, Lininger also has worked in the Accounting Office at Wittenberg for four years. Last semester Lininger worked on a WittCAM project requiring marketing research that developed recommendations for new industry targeting for Pallas Systems, a high-technology startup company.  She is a member of Wittenberg's Honors Program, Omicron Delta Kappa honor society, Tau Pi Phi Management honor society, Mortar Board honorary, and has been on the Dean's List each semester. Lininger is very passionate about giving back to the Springfield community and has volunteered with The Ark (a Christian after-school program) and the Clark County Habitat for Humanity Restore. She plans to pursue a career in the business field and earn a masters degree in business.
-END-
Entrepreneurial Business Award: The EBAward was initiated by Louise Lambert, President of Junior Achievement, Ed Levental, General Manager of Valco Industries, and Pamela Schindler, Director of the Wittenberg Center for Applied Management in 1997. Together their common interest in education and business vitality led to the idea of showcasing local business success stories. The EBA recognizes and encourages the entrepreneurial spirit and practices of area companies by recognizing businesses that have implemented innovative ideas to better serve their customers, enhance the skills of their employees, improve their competitiveness or benefit the community. The EBAward has been a student-managed project in the Wittenberg Center for Applied Management (WittCAM) since its inception. Past winners include: Oxiem Marketing Technologies , Comfort Keepers, Safety Through Engineering, The Happy Soul, Young's Diary, Freedom Feeds, Kapp Construction, Ohio Feedlot Inc, Rothschild Berry Farms, Rittal Corporation and Acusource.
Wittenberg Center for Applied Management (WittCAM): The Wittenberg Center for Applied Management offers alternative coursework to upper-level students who are focused in business. As an alternative to a classroom-based course, WittCAM students serve as consultants to businesses, government agencies and not-for-profit organizations. Students and organizations have a choice of opportunities, including: Small Business Institute, WittConsultants, Management Internship, and the Creative Advertising Partnership. Students work as groups on projects. Some projects require specific management course prerequisites; these vary depending on the nature of the project. Directed by Professor Pamela Schindler, more than 483 students have been involved in WittCAM projects in the last 30 years.