WittCAM Consultants Work to Foster a Better Bar Scene in 2011
February 7, 2011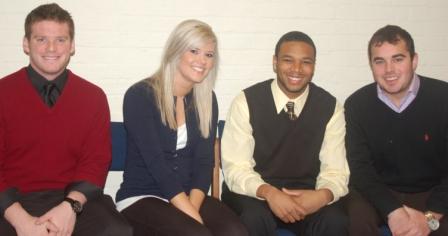 Springfield, OH— In the spring 2011 semester, Wittenberg Center for Applied Management WittConsultants William French, Elisabeth Hauser, Christopher Kyriss, Michael Montgomery are determined to promote a better bar scene in Springfield, OH.  They plan to work with a popular local bar to help in the re-imaging of the establishment.  The WittConsultants are going to understand the perceptions of the general population as well as students and staff of Wittenberg University towards this bar. In addition, information will be collected about competition's promotions, and understanding of what the Springfield population is doing during the week.  The team will complete a marketing SWOT analysi.  They will take that newly gained knowledge and implement it into a marketing and promotional strategy for the bar.
Meet the Consultants:
William French '11 is a senior, majoring in business and minoring in economics.  He has previously worked in an auto plant, making various car parts.  French also has experience working with National Parks and Trails maintaining the cities floral arrangements.  He is currently the manager of the Wittenberg Strength Center, where he makes and approves schedules for the other employees. He plans to pursue employment in the area of financial advisement.
Elizabeth Hauser '12 is a business major from Ottawa Lake, Michigan.  She is currently working in Wittenberg's Health and Counseling Center. She serves as the treasurer of Wittenberg's Panhellenic Association where she prepares budgets, attends budget hearings, and keeps track of the association's finances. Hauser also was director of finance for Delta Gamma Fraternity where she kept track of individual reserve accounts for the 65 girls in the house.  She is a member of Wittenberg's Track and Field team and the Human Resource Management Association. Hauser's future plans include interning in the hospitality industry and attending graduate school.
Christopher Kyriss '11 is a senior majoring in business with an emphasis supply chain management. His previous employment has involved extensive customer service, sales and warehousing activities. For the last couple of years Kyriss has been working at the Wittenberg Solutions Center where he has developed a strong understanding of Windows and Macintosh computer applications. Kyriss interned in 2009 with Newell Rubbermaid in the Calphalon division where he helped create a new website targeted at "direct to consumer eCommerce".  Just last semester, at Wittenberg, Kyriss was involved in a WittCAM group focused on understanding the perceptions students, family, and faculty have about studying abroad.  He and his group successfully created a marketing strategy for the department of International Education based on their research.  He plans to work for a corporation offering opportunities in international business, while continuing his education to acquire an MBA in his respective business field.
Michael Montgomery '11 is a senior business major. Montgomery has worked in Wittenberg's Computer Solution Center where he acquired knowledge in a number of computer skills and applications such as Windows. Montgomery was an intern for the Reynolds and Reynolds Company in the summer of 2008 where he gained valuable insight in distributing information technology and dealership software solutions that support automotive retailing in the Dayton area. Montgomery enjoyed a successful varsity football career in which he was a four-year letterman, achieving a 20-0 regular season record as a starter and two league championships. Upon graduation from Wittenberg University, Montgomery plans on earning his CPA and working for a firm in the field of accounting or financial services.
-END-
Wittenberg Center for Applied Management (WittCAM): The Wittenberg Center for Applied Management, better known as WittCAM, offers alternative coursework to upper-level students who are focused in management. As an alternative to a classroom-based course, WittCAM provides students with the opportunity to serve as consultants to businesses, government agencies and not-for-profit organizations. Students and organizations have a choice of opportunities, including: Small Business Institute, Project Management Assistance (WittConsultants), Management Internship, and the Creative Advertising Partnership. Students usually work in groups, but may work as individuals on projects. Some projects require specific business course prerequisites; these vary depending on the nature of the project. Directed by Professor Pamela Schindler with assistance from a student director and assistant student director, more than 496 students have been involved in WittCAM projects in the last 30 years.