Entrepreneurial Business Award 2010
2010 Entrepreneurial Business Award Winner Chosen from Four Finalists
January 29, 2010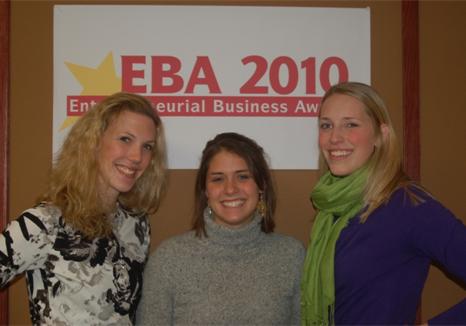 Springfield, OH --- WittCAM project assistants Melissa Cederqvist, Andrea Berry, and Katherine Yuskewich will spend their spring semester producing a promotional and educational video for the winner of the 2010 Entrepreneurial Business Award. After a busy fall semester of nominee screening and site visits, the team presented four finalists, The Champion Company, Freshwater Water Farms, Renaissance Discus, and The Cerium Group, to a panel of judges who selected the winner. While all the finalists showed evidence of success, the judges believe that this year's winner is truly innovative.
The team will be very busy during the spring semester as they produce the video for the winner as well as videos for two laureates that will be recognized at the Junior Achievement Hall of Fame banquet in May. This semester more attention is being placed on delivering a video that really serves educators needs. So, the team will work with teachers, students and local school administrators to ensure that they create a video and teaching notes that are useful and effective. Also on their agenda is a promotion plan to promote the winner as well as the award. The team is excited about this upcoming semester, creating a story line for the video, learning about the production process and working with this year's winner.
Melissa Cederqvist '10, is a senior chemistry and management double major with double minors in Computational Science and Economics from Huskvarna, Sweden. The Student Director of the Wittenberg Center for Applied Management (WittCAM), International Senator on Student Senate, a member of the American International Association (AIA) and Chemistry Club, Student Representative on the Budget Compensation Advisory Committee (BCAC) and a Team Captain for Relay for Life with the American Cancer Society for the past two years, Cederqvist is also a member of Wittenberg Honors Program, Tau Pi Phi honor society in Economics and Management and Alpha Lambda Delta. This past summer she performed computational science research in Berlin, Germany on the simulation of drug resistance in treatment of HIV and AIDS. Cederqvist plans a career in the pharmaceutical or fashion industry.
Katherine Yuskewich '10, is a senior management major with a concentration in marketing from Columbus, Ohio. As a Sports Marketing Intern in the Athletic Department, Yuskewich plans promotional events for athletics. As a management student, Yuskewich has also participated in the Creative Advertising Partnership and served as a Springfield High School Scholarship project consultant. As a member of the Advancement Office at Wittenberg, Yuskewich serves as the Tiger Club Student Manager where she assist's with athletic fundraising and marketing. A member of the women's varsity volleyball team, Yuskewich played in two consecutive Final Four appearances and two Regional Championships, as well as two North Coast Athletic Conference (NCAC) Championships. Representing the team on the University's Student Athlete Advisory Committee (SAAC), Yuskewich was nominated to attend the NCAA Regional Leadership Conference in January 2009. As a member of Delta Gamma, Yuskewich has held officer positions including Director of New Member Education and Director of Scholarship. As President of Wittenberg Human Resource Management Association (WHRMA), Yuskewich assists with organizing career workshops for students and administering the Merit Award. She also serves as a member of the Student Appellate Board and several honor societies including Alpha Lambda Delta, Tau Pi Phi, and Order of Omega. Yuskewich is interested in pursuing a career in the field of marketing.
Andrea Berry '10, is a senior management major with a concentration in marketing, from East Amherst, New York. The past semester she interned at an advertising agency in Columbus as an account services intern, managing short term projects and organizing and planning special events. In summer 2009, Berry interned at a different Columbus advertising agency as a media intern where she learned the media industry and gained exposure to the agency world. She is very involved on campus and is the 2010 class treasurer, a member of the Wittenberg University honors program, a four-year starter on the women's varsity lacrosse team, a representative on the Student Athlete Advisory Committee, Student Senate Finance Committee, serves as recruitment chair for Omicron Delta Kappa leadership honorary society, and as Vice President of Tau Pi Phi, a management honorary. As a management student, Berry has been a member of other WittCAM projects including the 2010 Entrepreneurial Business Award, Creative Advertising Partnership with the Office of Community Service and raising more than $40,000 for orphans and vulnerable children in Lesotho, Africa. After graduation, Berry plans to pursue a career in the field of marketing or advertising.
###
Entrepreneurial Business Award: The EBAward was initiated by Louise Lambert, President of Junior Achievement, Ed Levental, General Manager of Valco Industries, and Pamela Schindler, Director of the Wittenberg Center for Applied Management in 1997. Together their common interest in education and business vitality led to the idea of showcasing local business success stories. The EBA recognizes and encourages the entrepreneurial spirit and practices of area companies by recognizing businesses that have implemented innovative ideas to better serve their customers, enhance the skills of their employees, improve their competitiveness or benefit the community. The EBAward has been a student-managed project in the Wittenberg Center for Applied Management (WittCAM) since its inception. Past winners include: Oxiem Marketing Technologies , Comfort Keepers, Safety Through Engineering, The Happy Soul, Young's Diary, Freedom Feeds, Kapp Construction, Ohio Feedlot Inc, Rothschild Berry Farms, Rittal Corporation and Acusource.
Wittenberg Center for Applied Management (WittCAM): The Wittenberg Center for Applied Management, better known as WittCAM, offers alternative coursework to upper-level students who are focused in management. As an alternative to a classroom-based course, WittCAM provides students with the opportunity to serve as consultants to businesses, government agencies and not-for-profit