School of Community Education
WittCAM consultants to develop an Integrated Marketing Communications Plan for the School of Community Education
January 26, 2010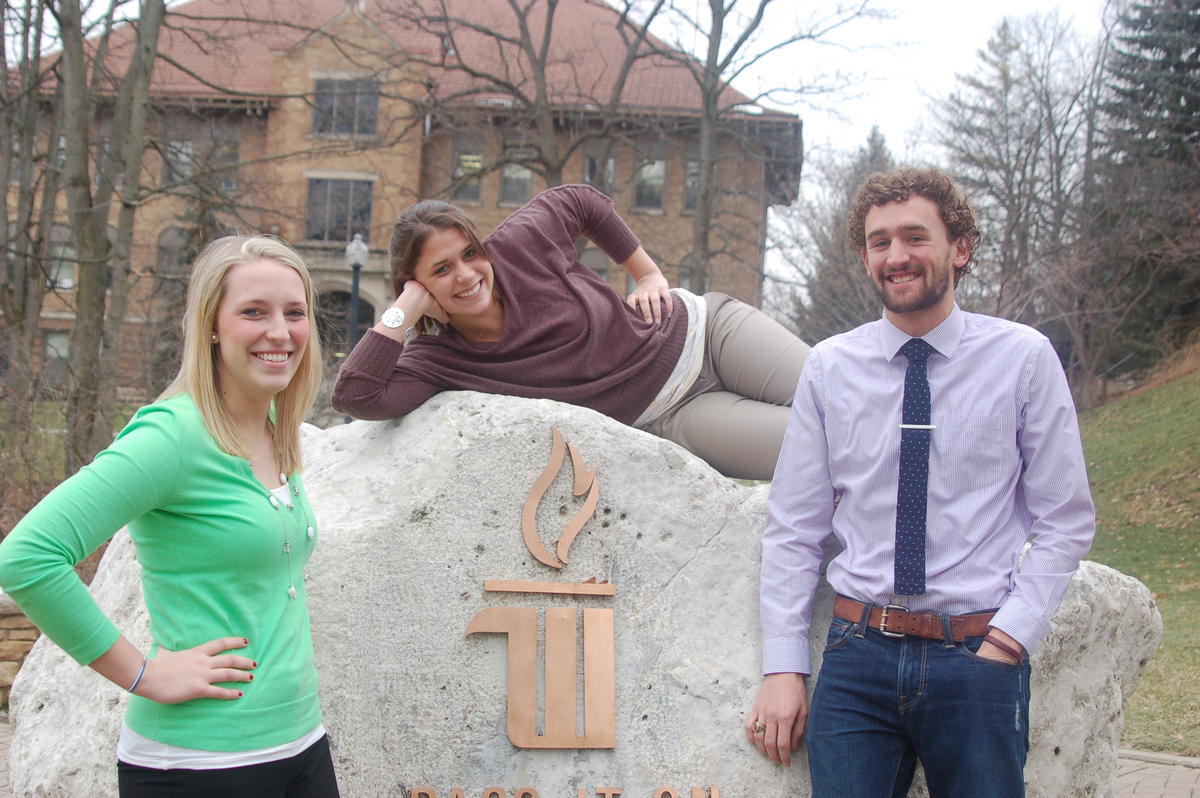 Springfield, OH- WittCAM consultants Andrea Berry, Robert Ritzi and Katherine Yuskewich will spend the spring semester of their senior year developing a new branding and integrated marketing communications plan for the Wittenberg School of Community education. The team will put together an advertising plan that will include everything from traditional to social media. They will also take on the challenge of repositioning the school in a very competitive market place.
The School of Community Education (SCE) as a separate division of Wittenberg was founded in 1957. The school runs both adult night and day classes as well as manages Wittenberg's summer program. There are a variety of degrees, classes and certificate programs available through SCE. The team is very excited about this opportunity and looks forward to being able to use their creative talents and advertising experience to help develop an effective strategy for the SCE program.
Andrea Berry '10, is a senior management major with a concentration in marketing, from East Amherst, New York. The past semester she interned at an advertising agency in Columbus as an account services intern, managing short term projects and organizing and planning special events. In summer 2009, Berry interned at a different Columbus advertising agency as a media intern where she learned the media industry and gained exposure to the agency world. She is very involved on campus and is the 2010 class treasurer, a member of the Wittenberg University honors program, a four-year starter on the women's varsity lacrosse team, a representative on the Student Athlete Advisory Committee, Student Senate Finance Committee, serves as recruitment chair for Omicron Delta Kappa leadership honorary society, and as Vice President of Tau Pi Phi, a management honorary. As a management student, Berry has been a member of other WittCAM projects including the 2010 Entrepreneurial Business Award, Creative Advertising Partnership with the Office of Community Service and raising more than $40,000 for orphans and vulnerable children in Lesotho, Africa. After graduation, Berry plans to pursue a career in the field of marketing or advertising.
Robert W. Ritzi III '10 is a senior majoring in management with a concentration in marketing communications. Ritzi serves as the current Student Senate president and as a tour guide for the Office of Admissions. Ritzi recently served as the account management Intern for Fahlgren Inc, a full-service, independently-owned advertising agency in Columbus, Ohio. Through this experience, he was exposed to all parts of a successful agency and was able to see multiple campaigns, for multiple clients, evolve from conception to completion. Ritzi also has a healthy background in social media and emerging marketing trends, established through his work with The Westcott House Foundation and Wittenberg University Office of Communications. An Eagle Scout, Ritzi also is co-captain of the Wittenberg Swimming & Diving squad and a proud member of Delta Tau Delta Fraternity, Iota Beta Chapter. After graduation, he plans to pursue a position in the account management department of a hardworking and successful advertising agency.
Katherine Yuskewich '10, is a senior management major with a concentration in marketing from Columbus, Ohio. As a Sports Marketing Intern in the Athletic Department, Yuskewich plans promotional events for athletics. She successfully created a continuity program that is well received by over 800 students, faculty, staff and fans. As a WittCAM consultant on the EBAward team Yuskewich developed an ad campaign that was featured in the Springfield News-Sun the month of October. Yuskewich also participated in the Creative Advertising Partnership where she created a SWOT Analysis and 5 ad campaigns for the Community Service Office. Yuskewich serves as the Tiger Club Student Manager in the Advancement Office at Wittenberg where she assist's with athletic fundraising and marketing. A member of the women's varsity volleyball team, Yuskewich played in two consecutive final -four appearances and two regional championships, as well as two North Coast Athletic Conference (NCAC) championships. Representing the team on the Student Athlete Advisory Committee (SAAC), Yuskewich was nominated to attend the NCAA Regional Leadership Conference in January. As a member of Delta Gamma, Yuskewich has held officer positions including director of new member education and director of scholarship. As president of Wittenberg Human Resource Management Association (WHRMA), Yuskewich assists with organizing career workshops for students and administering the Merit Award. She also serves as a member of the Student Appellate Board and honor societies including Alpha Lambda Delta, Tau Pi Phi, and Order of Omega. Yuskewich plans to pursue a career in marketing.
###
Wittenberg Center for Applied Management (WittCAM): The Wittenberg Center for Applied Management, better known as WittCAM, offers alternative coursework to upper-level students who are focused in management. As an alternative to a classroom-based course, WittCAM provides students the opportunity to serve as consultants to businesses, government agencies and not-for-profit organizations. Students and organizations have a choice of opportunities, including: Small Business Institute, Project Management Assistance, Management Internship, and the Creative Advertising Partnership. Students may work in groups or as individuals on projects. Some projects require specific management course prerequisites; these vary depending on the nature of the project. Directed by Professor Pamela Schindler, more than 467 students have been involved in WittCAM projects in the last 30 years.