Audio Bookshelf Title Development
September 2 , 2008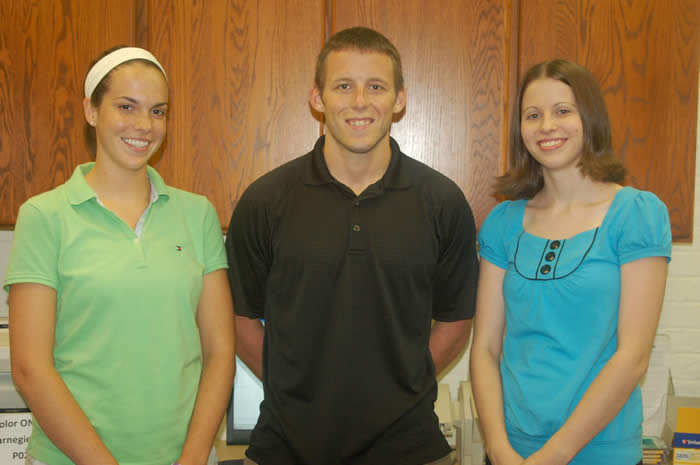 Springfield, OH---WittCAM students Maureen Walsh, Sara Wheeler, and Todd Carter will be working this semester on a project with Audio Bookshelf, a business owned by a Wittenberg alumnus.David Dittmann that produces audio books for libraries.  Throughout the semester, the team plans to research future title releases and negotiate copyrights with authors.  They will be doing extensive research with area librarians to investigate different libraries' processes for choosing audio book titles.  The initial focus of this investigation will be a librarians' conference in Columbus, Ohio.  They also plan to research target age groups and genres of current Audio Bookshelf titles to further assist the selection of new titles.  The students look forward to working with Dittmann to further enhance his already successful business. 
Maureen Walsh '09 is a senior management major with minors in theatre and music from Highland Heights, Ohio.  She is very involved in Union Board, serving on the executive board for two years as the special weeks and comedy chair.  This past summer Walsh studied abroad in Lesotho, Africa, immersing herself in the culture while doing service work.  She interned the remainder of her summer in the Richmond Hts. Recreation department.   Following graduation, Walsh plans to pursue a career in event planning.
Sara Wheeler '10, a junior from Bucyrus, Ohio, is a management major with a concentration in business law and a minor in English.  Wheeler has spent two summers participating in law-related internships, first with a private law firm, then at the Crawford County Municipal Court.  At Wittenberg, Wheeler, who serves as treasurer of the Pre-law Society, is a member of the Honors Program.  Her other campus activities include Student Senate Hearing Board, Alpha Lambda Delta freshman honorary, Habitat for Humanity, Wittenberg Astronomical Society, and Swing Dance Club.  After graduation, Wheeler plans to attend law school in Ohio. 
Todd Carter '11 is a sophomore management major with a concentration in business law from Troy, Ohio.  Carter is a resident advisor and an honors student at Wittenberg University.  He has worked as a landscaper, Ohio High School Athletic Association baseball umpire, and an assistant director of YMCA youth sports.  Carter has volunteered for the Red Cross, service learning program, and Troy Little League Football.  Carter plans to attend law school after graduating from Wittenberg.