Audio Bookshelf Sales and Marketing
September 3 , 2008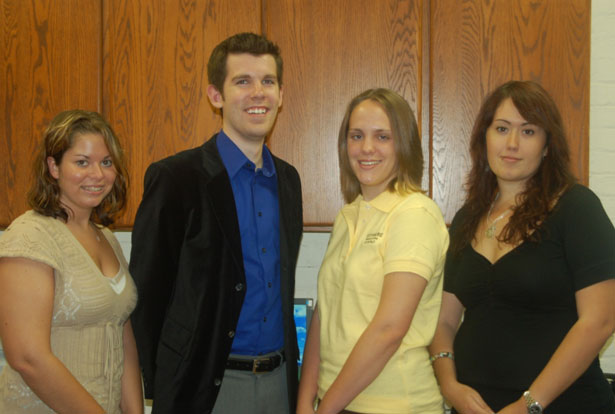 Springfield, OH---
This fall two WIttCAM teams will be working with Audio bookshelf, a small audio book publisher on the east coast of the U.S.  One team (Kerry Siddens, Ben Adams, Rose Spiker, and Isabel Fernandez Ponce) will focus on marketing and sales, working to identify marketing opportunities to increase product distribution and sales to a larger geographic region.  The team will take an in depth look at the operations of the business and using insights and information it will gather from  a variety of outside sources the team will make recommendations to help the company grow in the future.  The team will also have the opportunity to put its marketing and sales skills into practice.
Ben Adams '09, from Eaton Ohio, is a senior at Wittenberg majoring in management with a concentration in finance and a minor in economics.  He serves as a resident advisor in Tower hall and works with Wittenberg's dining services to plan and implement creative-themed events for the enjoyment of the student body.  This past summer, Adams took part in the Community Partner's internship program and worked with three other interns to create a marketing plan to generate pride in what the city of Springfield has to offer.  The recommended campaign, Oh! Springfield, included an on-campus event (Passport to Springfield) and a year's worth of advertising proposals to reach Springfield residents.  This semester Adams begins an internship with Westminster Financial Companies, Dayton, to expand his firsthand experience in the financial investments sector.  Adams is also enrolled in real estate courses at Clark State Community College and plans to have his realtor's license by graduation. 
Isabel M. Fernandez Ponce is an exchange student at Wittenberg University.  She is from Spain, specifically, a town in the south east of the country called Murcia, where she attend college.  In Spain, she had the opportunity to be part of a project with an export company, doing research about the company, analyzing its marketing strategies and finding out ways to improve the benefits and markets of the company.   Fernandez Ponce is studying at Wittenberg this year to complete her Bachelor's degree in Business Administration and improve her English skills.  Her main interests are public relations and marketing and those are the areas she wants to continue studying. After graduation, Fernandez Ponce would like to work in sales and marketing, practicing all she has learned during her university studies.
Kerry Siddens '10, from Vandalia, Ohio, is a junior at Wittenberg University.  As a freshman Siddens became involved in WUSS, Wittenberg's Cave Club, serving as treasurer for that club last year.  As a sophomore, Siddens moved home to help care for her ailing grandfather and to help manage the family apartment rentals.  Her responsibilities include upkeep of the grounds, all paper work dealing with the twelve units she is currently in charge of, and all customer service issues with tenants residing in the apartments.  In the next few years Siddens hopes to add more apartment units to the ones she currently manages.  After graduation, Siddens hopes to go to law school.
Rose Spiker '09, from Fairborn, Ohio, is a senior pursing a double major in English and Management.  She is an honors student, a 2007 Wittenberg Presidential scholar, and a new inductee to Phi Beta Kappa honorary society.  Spiker worked for two years at the corporate offices of Speedway SuperAmerica, as both a customer service representative and a prepaid-gas-card sales processor.  Spiker also has volunteered at Interfaith Hospitality Network, working at the day center, and further contributes through her home church.  Spiker co-captains a women's soccer team, the Lady Wolfpack, based out of the Dayton area.  After graduation, Spiker plans to work for a year in the marketing department at Speedway SuperAmerica, before continuing to law school.