Lesotho's Orphans Fundraiser
May 5 , 2008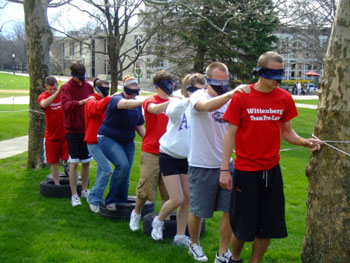 Springfield, OH--- On Monday, May 5, 2008, WittCAM students Katie Barsan '09, Zoe Lamberson '08, and Mallory Miller '08 presented to client Dr. Rosenberg of Wittenberg University the final outcome of their semester-long fundraising efforts to benefit the orphans of Lesotho—more than $16,000.00.
The team developed and executed numerous small-scale fundraisers including a McMurray's Kick-off with entertainment by Just Eve, a student letter-writing campaign, T-shirt sales, a 5K race co-hosted with Cedarville University, and six 10% donation nights at the Springfield Texas Roadhouse restaurant.  Collectively, these events raised $3,466.00.
Their efforts culminated in the main fundraising event on April 19: 2008 Survivor Wittenberg. This campus-wide competition, modeled after the popular CBS television show Survivor , consisted six student teams from various campus organizations competing in "Survivor-like" challenges. In order to participate, each team was asked to raise an entry fee of $400.00. The event raised $3,934 which accounted for the largest percentage of funds raised for the Lesotho Orphans' project.    Local businesses also supported the event, including Berner Screenprint, New York Pizza, Steak and Shake, Penn Station, Chipotle, Texas Roadhouse, and Mela with contributions and donations totaling $510.00. 
Two grants increased the fundraising success of the team: a $1,600 matching grant from Thrivent and a $3,000 grant from Build a Better Wittenberg.
The WittCAM team also delivered a critical analysis of the development and implementation of this project, which included recommendations for future fundraising efforts.
 In the summer of 2008, Dr. Rosenberg will be traveling to Lesotho, Africa with 45 Wittenberg students where they will use the money raised to build an after-school center for children orphaned by HIV/AIDS, as well as several other similar projects.
Dr. Rosenberg was very pleased with the outcome of this year's fundraising, which was $4,000 more than was raised in 2007. He is looking forward to putting the money to good use.
Katie Barsan '09, is a junior management major and Spanish minor from Akron, Ohio.  This past summer, Barsan interned at Charles Schwab Corporate and Retirement Services where she gained extensive training and knowledge in client services.  In the summer of 2006, she went on a summer program to Lesotho, Africa, where she helped build houses and spent time with orphans and other children who were either HIV positive or have been affected by AIDS.  Following graduation, Barsan plans to pursue a career in finance.
Zoe Lamberson '08, a senior from Canfield, Ohio, is a communication major with a double minor in history and Africana studies.  Lamberson studied abroad the summer of 2007 in Copenhagen, Denmark and Amsterdam, The Netherlands and the summer of 2006 in Lesotho, Southern Africa where she worked closely with Habitat for Humanity and children orphaned from HIV/AIDS.   As a member of her sorority, Chi Omega, Lamberson was chosen to serve the chapter in several leadership positions and as a communication major, Lamberson was elected secretary of communication club and vice president of the Wittenberg chapter of Lambda Pi Eta, the national communication honorary.  Consistently appearing on the dean's list, Lamberson has earned a cumulative 3.57 grade point average and plans to attend law school following graduation.  
Mallory Miller '08, from Northbrook, Illinois, is a Wittenberg senior majoring in management with a concentration in Marketing. This summer, Miller will be traveling to Africa as part of a summer study abroad/ service trip . She is the vice president recruitment chair for Wittenberg's Panhellenic Council and plans all dates for pre-recruitment activities as well as informal and formal recruitment. As part of her sorority, Delta Gamma, she served as director of recruitment her sophomore year, and also did volunteer work with Service for Sight and Pilot Dogs. She currently works as the student assistant to the Director of Capital Giving in the Wittenberg Advancement Office. During the fall of her junior year she attended the Umbra Institute in Perugia, Italy. Miller plans a career in marketing, sales or human resources.
The Wittenberg Center for Applied Management (WittCAM) is an extension of the Management Department curriculum at Wittenberg. Teams of students are assigned projects for community organizations, businesses, and government agencies and coached by Management faculty.  The programs of WittCAM, started in 1975, include the Small Business Institute, the Creative Advertising Partnership, the Project Management Assistance Program and Management Internships. Professor Pamela Schindler is the director.