Springfield Symphony
Feburary 1 , 2008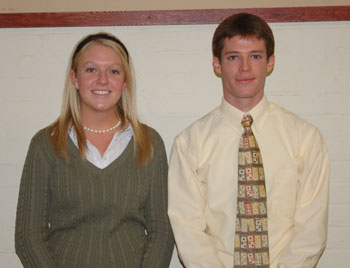 Springfield, OH – During the spring semester of 2008, Kelly Mutton and Jonathan Fox, project management assistants in Wittenberg's Center for Applied Management (WittCAM), will work with city leaders and community members to identify attendance patterns in a local entertainment organization. Together they plan to identify the demographics of the organization's subscribers, regular attendees, and occasional attendees. They also plan on determining why there is poor attendance among college age students and non-attendees in general as well as identify programs and events that would appeal to those individuals. The WittCAM project team hopes to gain practical business knowledge from this experience while, at the same time, help a local organization build upon its past success.
Kelly Mutton '08, from Fort Wayne, Indiana, is a Wittenberg University senior double majoring in management with a concentration in international business, and Spanish.  During Mutton's four years at Wittenberg, she studied abroad not only in Guatemala for a summer session, but also in Chile for the spring semester of her junior year.  These experiences gave her an international perspective on the business world.  Mutton also worked as a Resident Advisor at Wittenberg, developing her organizational and leadership skills while maintaining an environment that was conducive to academic success.  Throughout high school and her collegiate career at Wittenberg, Mutton was employed with Fort Wayne Dental Group where she coordinated financial payment plans with patients, enhancing her interpersonal and communication abilities.  Mutton was also part of a 4-person team that developed marketing strategies for a struggling company in the soda industry.  After graduation, Mutton will pursue a career in international business.
Jonathan Fox '08 is a senior management major from Urbana, OH. Fox has served as a purchasing and sourcing intern for the German-owned Rittal Corporation, a leading enclosure manufacturer with offices in over 90 countries. Fox has also held customer service positions with the Triple A Charlotte Knights (affiliate of the 2005 World Series Champion Chicago White Sox) and the Waterford Golf Club out of Rock Hill, South Carolina. During his time at Wittenberg, Fox worked as a project management assistant in Wittenberg's Center for Applied Management. Within that project, he worked with city, county, and business leaders to conduct a retail assessment for downtown Springfield. Fox also served as a residential advisor in South Hall and he was two-time varsity letter winner on the intercollegiate baseball team. In addition, Fox has maintained a 3.79 GPA, earning him a spot on Wittenberg's Dean's List over the past four years. In his spare time, he enjoys spending time with friends and family, playing sports, and traveling. Fox will pursue an M.B.A. in the fall of '08 at Winthrop University or the University of North Carolina, Charlotte.