Entrepreneurial Business Award 2009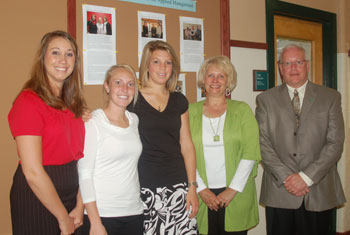 Senior WittCAM project management assistants Ashley Manson, Cait Mather and Beth Vonderbrink have spent this past semester working with Oxiem Marketing Technology, the winner of the 2009 Entrepreneurial Business Award.  Judges choose Oxiem for its innovative approach to web design and optimization.
Once Oxiem was selected, the team set out to discover innovative ways to tell Oxiem's story.  Working with professional videographer Jim Kragel gave them great insights into how to produce a professional corporate video, from script stage to final cut. This was also the first year the team was charged with making the first cut of the raw film.
This year the team also produced a retrospective video DVD that includes all thirteen past winners of the Entrepreneurial Business Award.  Both the individual DVD and the retrospective DVD will be distributed in the fall to Clark and Champaign County high schools and colleges.
In addition, working with Junior Achievement director Louise Lambert, the team wrote scripts and guided the filming for this year's living laureate and posthumous laureate award videos.  This year's living laureate, Jimmy Sheehan, currently the CFO at Avetec, is co-founder of Sheehan Brothers Vending.  The posthumous laureate, Richard Heckler, in addition to contributing his talents to countless local initiatives, developed a very large portfolio of businesses including Miller Printing, Rhodes Paper Box, and Springfield Packaging.  To develop videos of these two wonderful entrepreneurs within the Springfield community, the team interviewed family, gathered pictures, and crafted scripts. 
All three of the team's videos will be premiered to an audience of more than 300 at the annual Junior Achievement Hall of Fame event, May 21, 2009.
Ashley Manson '09 is a senior management major from Covington, Ohio. Manson has interned with the Wittenberg Alumni Relations Office during both her junior and senior years. Her junior year she helped plan Witt Nation '08, a summer road trip developed to reconnect Wittenberg with its Alumni.  She is currently planning Witt Nation '09 where she has been chosen to be one of two traveling representatives for the trip.  During the fall semester of her senior year Manson interned with Qbase, a data analytics firm in Beavercreek, Ohio in the Human Resource Department. She updated and converted more than 70 resumes for the company's government sector, and also assisted in the recruiting and new hire processes. This past summer, Manson interned with Center City Association on projects dealing with Springfield's downtown development and assisted in developing the foundation research for a Springfield Pride initiative designed to change Springfield's perception of itself. As a sophomore Manson served as sisterhood chairman for the Tau Gamma Chapter of the Chi Omega Sorority, planning many events including a Christmas party, Mom's Weekend and Parent's Weekend. As Recruitment Chairman for Chi Omega her junior year, she guided the successful recruitment of 26 women. Manson served as the 2008 president for the Tau Gamma Chapter where she managed the activities of more than 80 young women. She received the 2008 Chi Omega Pauline Burnett Award for excellence in business and is a member of the Greek honor society Order of Omega. She was also nominated as Greek Woman of the Year for 2009. Manson is also a member of the management department's Tau Pi Phi honor society and is the vice president of communications for WittInvest. Manson plans a career within the event management, marketing or advertising field.
Cait Mather '09 is a senior management major and history minor from Mason, Ohio.  A member of the women's varsity lacrosse program, Mather represents the team on the Student Athlete Advisory Committee (SAAC), a sounding board for athlete concerns and questions.  Mather serves as treasurer of Mortar Board, a highly regarded national honor society, and is a member of Tau Pi Phi business honorary and Chi Alpha Sigma, a national college athletic honor society.  This past summer, Mather completed her second finance internship with Ethicon-Endo Surgery, a Johnson & Johnson Company. She has accepted an offer to work in finance for Johnson & Johnson.
Beth Vonderbrink '09 is a senior Management major with a concentration in Marketing from Cincinnati, Ohio.  This past summer, Vonderbrink participated in sales and marketing internship with SafeSchools, LLC.  She is a member of both the Wittenberg's varsity women's field hockey and lacrosse teams where she was appointed captain both her junior and senior years.  As a member of Chi Omega, she has held numerous positions including Personnel Chair and enjoys participating in philanthropic fundraisers that benefit the Make-A-Wish Foundation.  Vonderbrink enjoys spending time with family and friends, traveling, and being involved in various campus activities; she plans to work in the marketing and sales field after graduation. 
The EBA recognizes and encourages the entrepreneurial spirit and practices of area companies. If you know a business in Clark or Champaign County that has implemented innovative ideas to better serve their customers, enhance the skills of their employees, improve their competitiveness or benefit the community, we'd like to hear more! Help us identify businesses who efficiently and effectively serve customers, including your own business!