Scholarship
May 7 , 2009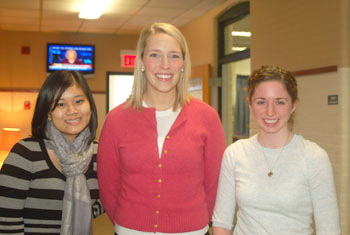 Springfield, OH- On April 27, three student consultants were making a very important presentation in Carnegie Hall.   WittCAM project management assistants Sopheap Khun, Katie McIlvain, and Katherine Yuskewich revealed their recommendations to their client, Jack Hutslar, a North High School graduate of 1957, who is establishing a Springfield High School-specific scholarship known as SHS Scholarships.
During spring semester 2009, the team conducted many interviews within the community to learn about Springfield and the nature of creating scholarships.  In addition to the interviews, the team performed secondary research to develop the marketing plan that the team presented their client.
 After conducting interviews and researching current marketing strategies, the team created a SWOT analysis and developed a list of strategic windows. These strategic windows served as a basis for all recommendations designed to increase the awareness and visibility of SHS Scholarships. In addition, the team created numerous deliverables to help Jack market the new scholarship including a brochure, a PowerPoint presentation, and personal business cards and stationery.
The team presented their work to Hutslar and three representatives of the Springfield Foundation in Wittenberg University's Carnegie Hall to very positive reviews.
WittCAM Project Management Assistance Team:
Sopheap Khun '10, is a junior management major with Spanish and international studies minors from Columbus, Ohio. As a freshman she participated in the Emerging Leaders Program and helped organize a talent show event to raise money for Invisible Children, a non-profit organization that helps children and others coping with the war in Northern Uganda. She was also a member of the outdoors club.  During her sophomore year she was a resident assistant in Myers Hall and volunteered at Mercy-Parent Infant Center. She was also a member of American International Association and helped raise money for The Trailblazer Foundation, a non-profit organization committed to humanitarian assistance to under-developed countries that builds water wells in Cambodia.   As a junior she was a teachers' assistant for one of the WittSem courses and she is currently president of American International Association. After graduation she plans to attend graduate school or apply to the Peace Corps.   
Katie McIlvain '09 is a senior English major with a minor in management. As a marketing and sales intern at the Homer Laughlin China Co. last summer, McIlvain was responsible for overseeing the redesign of the factory outlet store and assisting in the design of a more customer centered atmosphere. McIlvain also assisted in the creation and implementation of a new storage system for the factory outlet storeroom that was more easily accessible for outlet employees. McIlvain serves as a captain for the Wittenberg University Cross Country team and led the team to its best conference finish in school history this season. She is also a member of Gamma Phi Beta Sorority.
Katherine Yuskewich '10, is a junior management major with a concentration in marketing from Columbus, Ohio.  As a member of the Advancement Office, Yuskewich serves as the Tiger Club Student Assistant where she helps with athletic fundraising and marketing.  A member of the women's varsity volleyball team, Yuskewich played in two consecutive Final Four appearances and two Regional Championships, as well as two North Coast Athletic Conference (NCAC) Championships.  Representing the team on the University's Student Athlete Advisory Committee (SAAC), Yuskewich was nominated to attend the NCAA Regional Leadership Conference in January.  As a member of Delta Gamma, Yuskewich has held officer positions including Director of New Member Education and Director of Scholarship.  As Vice President of Wittenberg Human Resource Management Association (WHRMA), Yuskewich assists with organizing career workshops for students and administering the Merit Award. Yuskewich also serves as a member of the Student Appellate Board.  Yuskewich is interested in pursuing a career in the field of marketing.