WittConsultants Solicit the Help of Student Volunteers to Continue their Lesotho Fundraising Efforts
February 7, 2010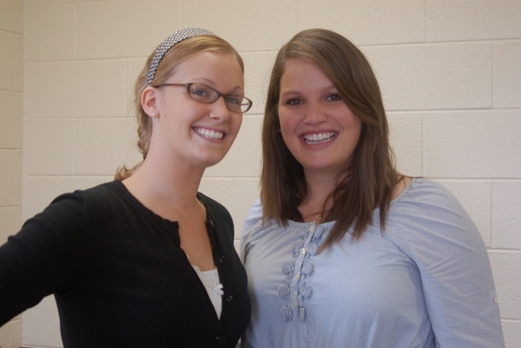 Springfield, OH—This spring, Wittenberg University Business majors Sara Mewhort and Marisa Rogers will continue to plan and execute many events aimed to raise money and awareness of the Witt-In-Africa initiative. Witt-In-Africa funds service projects completed by students and faculty for residents of Lesotho, a small African Kingdom. With funds raised the volunteers will make a sustainable difference in the impoverished country.
The first planned event, a letter writing campaign will take place during the month of February. Students going to Lesotho this summer will write to their friends and family and ask them to contribute by helping to purchase supplies for service projects.
The trip participants will also help Mewhort and Rogers recruit teams for the Survivor Wittenberg event on April 9th. Teams will compete against each other while raising money for Lesotho projects. Survivor Wittenberg will be the finale of Lesotho Week, which will feature various fundraising and awareness events during the week of April 4th- 9th.
Meet the WittCAM Consultants:
Sara Mewhort '11 is a senior business major at Wittenberg University from Sylvania, Ohio. Currently working for the Wittenberg Fund as the student manager for athletic fundraising, she has three years of experience fundraising through events and solicitation specifically for Wittenberg organizations. During the summer of 2010, Mewhort interned at The Hylant Group, where she gained valuable knowledge about sales, client interaction, and she even acquired some familiarity with cold calling. Having previously served as vp-finance and president of the Wittenberg chapter of Delta Gamma, Mewhort has a track record of high event attendance and successful donation solicitation for the chapter. After visiting Lesotho, Africa during the summer of 2009, Mewhort became committed to using her business education to improve the lives of her Basotho friends. Last semester, she began her efforts by planning fundraising and awareness events as a WittConsultant. Her future aspirations include working in the fundraising department of a university or other non-profit or continuing her education to earn her CPA certification.
Marisa Rogers '11 is a senior business major at Wittenberg University from Loveland, Ohio.  Rogers is currently the student marketing coordinator for the Student Involvement Office and assists both the director of student involvement and the Greek life advisor.  She is an officer on Wittenberg's Human Resource Management Association and served as the president of Delta Gamma Sorority. Rogers continues to work as a WittConsultant for the Witt-in-Africa team planning various fundraising events to support orphans in Lesotho, Africa.  She recently completed an internship with JJR Solutions as their human resource Intern where she assisted in the recruiting, selection, and on-boarding of new employees.  Rogers has planned and coordinated various events for her sorority, as she previously served as vice president-programming.  At Wittenberg, Rogers has participated on the Pan-Hellenic Council as vice president-philanthropy, arranging various philanthropic events for the campus and expanding service opportunities for Greek students. Rogers plans to take the Professional Human Resources exam this winter, and hopes to serve as a consultant for small businesses after graduation.  Rogers also plans to stay active in her community and participate in service events.
- End -
Wittenberg Center for Applied Management (WittCAM): The Wittenberg Center for Applied Management offers alternative coursework to upper-level students who are focused in business. As an alternative to a classroom-based course, WittCAM students serve as consultants to businesses, government agencies and not-for-profit organizations. Students and organizations have a choice of opportunities, including: Small Business Institute, WittConsultants, Management Internship, and the Creative Advertising Partnership. Students work as groups on projects. Some projects require specific management course prerequisites; these vary depending on the nature of the project. Directed by Professor Pamela Schindler, more than 483 students have been involved in WittCAM projects in the last 30 years.