Communication Alum Guest Lectures Methods Class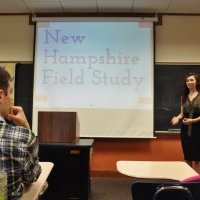 For communication alumna Katie Nemeth ('10), returning to campus in the spring to guest lecture Dr. Warber's Communication Methods course is an opportunity she couldn't ignore. Currently a graduate student at the University of Cincinnati, Nemeth has discovered her current studies bare an uncanny resemblance to what she learned in Communication Methods during her tenure at Wittenberg.
"Since I've started grad school, Witt's Communication Methods requirement has put me leaps and bounds ahead of those that haven't had to take the class," said Nemeth. "Also, a lot of the skills that you learn in methods are transferrable, which is great, as not everyone is interested in the long and winding road of post-secondary education."
Students currently enrolled in Methods enjoyed Nemeth's visit and guest lecture.
"My favorite thing about Katie was that she's been where we are now," said Liz Guyer, junior.  "It wasn't some PhD candidate talking to us about how great methods is, but an actual Wittenberg grad that is using her communication degree in the real world and has experience doing research."
Nemeth has plenty of advice for seniors currently searching for jobs: tell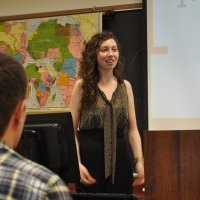 friends and family that you are searching for a job because they can help you make connections, and to treat filling out job applications like a job. She says it is much easier to sing your own praises when you are dressed nicely and putting in the time and effort.
Her last piece of advice to graduating seniors stresses the importance of following your heart and pursuing your dreams and ambitions.
"When it comes to really important decisions in life, like what field you're interested in and where you move, you are the only person that can decide what a good fit is," said Nemeth. "It's great to talk through these things with friends and family, but they won't be the people navigating the city or putting in the late hours to finish an assignment."
 By Shelly Gregory, 2013