Communications News
(February 11, 2007)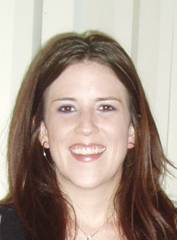 SPRINGFIELD, Ohio - The members of Lambda Pi Eta decided to take it upon themselves and find out more about the newest Communication professor.  Assembling an extensive list of questions, they decided to ask her the serious questions plaguing the backs of their minds.
The Questions and Answers:
Full Name: Kathleen Marie Warber (nickname: Katie)
Hometown: Grand Rapids, MI
Siblings: I'm the baby. I have an older brother, Chris, and older sister, Beth.
Pets: I (currently) have three dogs; Murphy, Buddy, and Pearl.  I love animals.  I had all kinds growing up…dogs, rabbits, hamsters, birds, fish, and even frogs.  I have a boyfriend too, Mike…does he count?
Favorite Color: Red…really, anything in the red family (from pink to burgundy).
Favorite Food:  This is strange, but I really like eggs (OK…and bacon!).  Breakfast is my favorite meal of the day for sure.  Currently though, I am hooked on the American Idol Limited Edition "Take the Cake" ice-cream by Dreyer's (you may know it as Edy's).  It is the best ice cream you will ever eat!  P.S. I have "food phases."
Favorite Band/Type of Music: Pink Floyd/Roger Waters.  I like all types of music though.
Favorite Book: Do textbooks count?  I honestly can't remember the last book I read for fun.  I'm really not much of a "pleasure reader" though.  I prefer TV and movies.
Favorite Movie: Hmmm…I don't really have a lot of "favorites" of anything I guess.  I do like Mean Girls a lot though. 
Favorite Sport & team (to watch):  I like college football best, I think.  I would have to say that the Michigan State Spartans are my favorite team to watch.  I like the whole experience of the day-long tailgate and gathering with friends.  I am excited to get back to the Midwest where there is actually fall weather.  One of the things I have missed most while in Arizona is the autumn season.  I love the changing leaves, the smell of leaves burning, the brisk air, and fall sweaters!
One thing you can't get enough of:  Reality TV; January begins American Idolseason!!!  I am a huge fan of the genre of adolescent reality TV… Laguna Beach,My Super Sweet 16, The Hills, etc. all top the list.
One pet peeve:  Well, I am really clean and organized.  So, messiness kind of drives me nuts.
Can you speak another language:  Some Spanish.  It's ironic that I've been living in the Southwest for the last 7 years and haven't used it more. 
Dream Vacation:  I am a nature-girl.  I like the water, woods, beach, and mountains.  So, I imagine some type of camping trip on a mountainous shore-line somewhere.  Oh yeah, I like warm weather, so this dream vacation would be somewhere with low humidity, sunny skies, and temperatures hovering around 80 degrees… (Am I moving to Ohio?  I think I moved from Michigan to get out of the cold.  Hmmm…Wittenberg must really be a great place to sacrifice the 350 days of sunshine and warmth we get here in Tucson!) 
One thing you want to do before you die:  OK, this questionnaire makes me seem really boring.  I don't really have any big ambitions either.  I would like to travel a bit more than I do now, but other than that…
Biggest Fear:  I am not a fan of physical pain at all.  Otherwise, no really big fears to speak of (unless of courses they are imbedded somewhere in my subconscious)
Three adjectives to describe yourself: feisty, motivated, & giving.  
Pop or soda?:  This is tough.  As a native Michigander, of course I was raised a "pop" girl.  However, since my move to Arizona, I have converted to "soda."  I wonder if I will switch back when I move again.  Which does Ohio adhere to???  Also, what are people from Ohio called… "Ohioans?"
Dogs or cats?: Dogs for sure…I am deathly allergic to cats!
McDonalds or Burger King?: McDonalds…I hope their fries are still as good when they switch to trans-fat-free frying oil!
Coffee or tea?: Venti soy no-water 7-pump chai-tea latte.  (NOTE:  I am painfully aware that there is not a Starbucks in Springfield.  This could literally be a deal-breaker in my having to live in Dayton…pathetic, I know).  Honestly though, I consume both equally; coffee in the morning, hot tea at night. 
Thing you are most excited about Wittenberg: Passing the light!