Communications News
April 4, 2007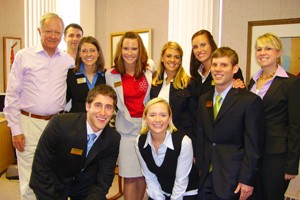 CHICAGO, Illinois - Getting called out in class is embarrassing, but even worse when you are asked to stay after class.  When Tara Beckman, Amy Holden, Megan Jackson, Julie Machledt, Greg Mustric, Kristen Scheerer, and Jerrod Swanton's names were called out during their first Senior Seminar class, they had no idea what to expect.  But staying after class that Monday was not exactly the "punishment" they were expecting; it proved to be quite the contrary.
When they walked across the hall, they were met by Karen Reynolds, Wittenberg's new Director of the Career Center.  They were then asked to participate in the inaugural school year for the Communication Leaders group.  This group, originally founded by Reynolds at Ohio University, would consist of these seven seniors who were chosen by the Department of Communication faculty and Reynolds.
The goal of the experience is to learn about leadership directly from organizational leaders and to represent the Communication Department and the University to outside individuals and organizations.  The seven seniors are exposed to the world of work through private, on-campus sessions with organizational leaders and on-site visits to selected major organizations in the United States.
Taking on this role, they were told, would be a lot of extra work.  Throughout this year these students had to learn aspects of business leadership and ethics, study countless organizations and their business structures, along with a myriad of articles on business etiquette, dress, and financial terminology.  "It was almost like taking a whole extra class," explained Greg Mustric.  "You had to be at every meeting, prepared, and ready to discuss in order to make the most of the program.  Karen held her expectations very high for us and it paid off."
And from March 14-17, when the majority of Wittenberg was jamming in the Hollenbeck Computer Lab finishing papers in anticipation for St. Patrick's Day, these seven seniors' hard work was finally paying off in the Windy City.
The culmination of the program was a four-day excursion to Chicago, Illinois, and not to traverse Michigan Avenue for the latest shopping bargains.  These seniors had two jam-packed days in which they met with leaders from four companies (Google, Vienna Beef, Accenture, and Wrigley) to learn about their organizations, career paths, and leadership challenges in order to develop their skills and progress in the business world.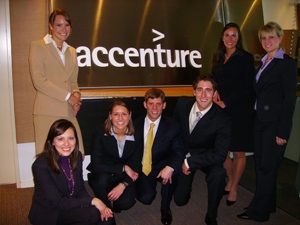 At each company, they were hosted by executive-level staff and given elaborate presentations about the organization and how to be successful in the business world.  The seniors then had Question and Answer sessions with these directors, CEOs, strategists, and managers in order to receive advice students most likely can never get out of a book or in the classroom.  
"They treated us like royalty," said Megan Jackson. "We went out for dinners and lunches with these executives and it was obvious they were eager to impart everything they could on us."
One of the most remarkable aspects of the trip was how each company was chosen.   "The executive who hosted us at each company was actually a Communication Leader when he or she was in college," said Jackson.  "This was the greatest thing about it—they can totally relate to us as well as give us applicable advice because they were once in our position."  The Communication Leaders whom Jackson and her colleagues met were, in fact, part of the original Communication Leaders group from Ohio University.  And these veteran "leaders" didn't just host these Wittenberg students.  They also helped finance a great deal of the trip, merely to help the next generation of business leaders. 
This experience, according to Reynolds, is a perfect example of the Wittenberg motto 'Having light we pass it on to others.'  "The current Communication Leaders have learned from the old and hopefully someday they will pass it on to the next generation of up-and-coming business professionals," said Reynolds.
"Because of this program, I now have much more confidence when it comes to interviewing for a job and the challenges that I will face after graduation," said Tara Beckman.  Besides confidence, Mustric also learned that having a mentor or a career coach is very important.  "They can be a contact, help you find a job, and just be there with career advice.  They will just be that person you can always turn to with a question," explained Mustric.
Kristen Scheerer remembered her favorite bit of advice.  "When we were at Wrigley, one of the executive directors gave the life motto to 'fail forward.'  What he meant by this was that in the business world, you have to learn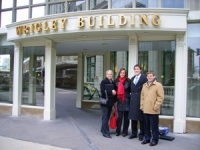 the most from your bad experiences.  When you 'fail' at something, you should take that mistake and better yourself as a businessperson.  That way, your skills will continue to grow," explained Scheerer.
Jackson, who feels pressure choosing a job based on a geographic area, learned something personally valuable.  "They told us it was okay to narrow your search down to one city.  There will be a job anywhere you look as long as you are looking in the right place." 
Jackson also wanted to share another piece of advice with students.  "If you want to work at a specific company and get turned away, don't lose hope.  Do anything you can to work there and show your loyalty, whether you are answering phones or sorting mail.  They will notice your tenacity eventually."
Overall, each one of these seven seniors is extremely thankful for the opportunity and attributes this gratitude to one person: Karen Reynolds.  "Without her, none of this would ever have happened," said Jackson. 
The Communication Leaders program, with obvious potential for subsequent years, has been a tremendous asset to each of those seniors involved and will prove to help seniors to come.  Remarked Julie Machledt, "It was truly an amazing experience, something that I know I will look back on and realize that it was one of those experiences that in fact changed me."