Junior Night 2011 Provides Insight for Majors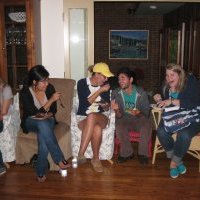 Junior communication majors attended a dessert social hosted by the communication faculty, on Sept. 20 at 7 p.m. at Dr. Cathy Waggoner's house.
The event provided a casual opportunity for students to learn more about programs such as Communication Leaders, internships, or the Senior Seminar capstone which are all relevant topics for upcoming seniors.
Students enjoy desserts and getting to know each other at Junior Night 2011.
"Junior Night is designed to provide juniors with a fun opportunity to socialize with each other in an informal setting while also receiving helpful, timely information related to their remaining time at Wittenberg," said Dr. Stefne Broz, Associate Professor and Chair of the Department of Communication.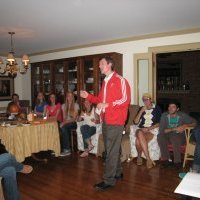 Dr. Matthew Smith, Professor of Communication, came up with the idea for Junior Night in 2008 out of a need to shed light on aspects of the program that students were unaware of when they signed up.
 "We thought a social and relaxed atmosphere would be a better fit with building community in the major," said Smith.
 Smith also mentioned that this is a great opportunity for the community of majors to come together, because students often don't realize who all their fellow majors are or that they will be taking senior seminar with them.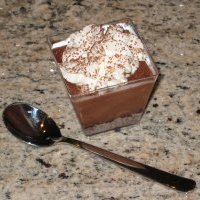 The communication professors also enjoy some friendly competition at Junior Night, with students voting on their favorite faculty-made dessert. Dr. Sheryl Cunningham took first place in 2008, and Dr. Katie Warber has taken first place in 2009 and 2010. Dr. Broz took home the winning dessert of 2011 with her frangelico-laced dark chocolate mousse!
Dr. Broz's frangelico-laced dark chocolate mousse, the winning faculty dessert from the evening.
By Shelly Gregory, 2013