Colloquium Speaker Encourages Students to Take Environmental Comm
October 2009
All communication is environmental," says Dr. Stephen Depoe, professor of environmental communication as well as director of graduate studies at the University of Cincinnati. Depoe challenged an audience of over 100 students and faculty to see the way in which environmental and communication studies fit together, even though the two may not automatically come to mind as related.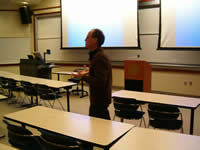 Depoe's talk, entitled "Adding to the Conversation: What Environmental Communication as a Field can Contribute to Public Understanding and Public Policy Making" and sponsored by the Department of Communication, the Environmental Studies Program, the Department of Geology, and the Faculty Endowment Fund Board, was held on October 7th. 
During the colloquium, Dr. Depoe discussed ways in which communication studies is becoming a major contributor to how we think about the environment.
"Media messages try to get you to act a certain way in regards to the environment," said Dr. Depoe. "You are constantly being bombarded with images of the environmental impact a product has."
The colloquium was only one of the events Dr. Depoe participated in during his time at Wittenberg.
Depoe also lectured an environmental communication class and hosted a lunch for students interested in grad school.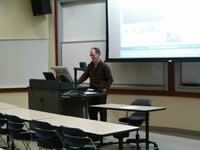 Dr. Depoe hopes that if students take only one thing from the colloquium, it is the knowledge that the study of environmental communication is important for everyone.
 "As individuals, consumers, and global citizens, we affect the environment," said Depoe.  "The environmental communication topics we discuss today have a huge impact on tomorrow's world."