Making Camp a Hit with National Audience
November 2009
When Wittenberg Communication professor Dr. Catherine Egley Waggoner returned from Chicago for the National Communication Association (NCA) Conference, she had more to think back on than the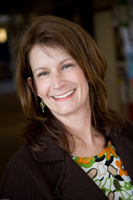 usual bouts of lectures and paper presentations.  Her book, Making Camp: Rhetorics of Transgression in U.S. Popular Culture, received the Best Book Award from the Critical Studies Division and The Bonnie Ritter Award from the Women's Caucus/Feminist and Women's Studies Division of the NCA, as well as much acclaim at this year's conference.
"It all started with an article I wrote about Mary Kay cosmetics and what the over the top femininity associated with it was doing.  In communication, style often is seen as secondary to substance.  But for women, style and aesthetics are important," said Dr. Waggoner.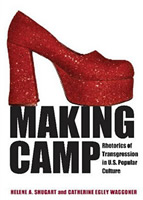 The book, which analyzes four different cases of campy women in popular culture including Macy Gray, Gwen Stefani, Karen Walker of Will & Grace, and Xena from Xena:  Warrior Princess, was co-authored by "grad-school buddy" Helene Shugart. 
"I had a lot of things going on in my life at the time and knew I couldn't finish it on my own, so I asked Helene to co-author it with me and she signed on!"
The article on Mary Kay eventually morphed for Dr. Waggoner into the idea to write about camp.  "Anything that is 'campy' is a parody of itself," said Dr. Waggoner.  "Austin Powers is campy.  Drag is campy.  I wanted to write about this idea that, through camp, femininity is unhooked from being a natural thing and is turned into a performance.  Women performing as women, or the idea of what a woman should be."
While the book turned out to be a great success, its road to publication was an uncommon one.  "Normally, you would send out proposals to publishers and, once you get the go-ahead, write the book.  But we wrote it first and then shopped it around.  We did things a little backwards," said Dr. Waggoner.
And even though this "backwards" route helped the authors avoid difficult deadlines, it wasn't without a few hardships and setbacks.  "Each time we sent out another chapter of the book we received feedback from different peer reviewers.  It was tough sometimes, because it's nerve-racking to send your stuff out there knowing it's going to be criticized.  I think a lot of times students feel like we professors don't know what it's like to get graded on our work--believe me, we do."
To read more about Dr. Waggoner's achievements, check out http://www4.wittenberg.edu/news/2009/11_17.html