Comic Con Field Study Prepares for its Fourth Run
November 2009
The San Diego Comic Con, or "the Con" as fans (including Dr. Smith) affectionately refer to it has been the go-to place for fans of pop culture for nearly forty years, giving marketers access to some of the most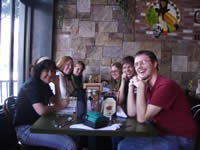 established opinion leaders in the field—the fans.  And since 2007, Wittenberg students have been a part of this exchange, not only participating in the producer/consumer relationship, but studying it. 
The program allows students to receive credit using Comic Con International as a field study.  Students are given a set of readings to be completed before the trip and receive assignments throughout the five day convention, which are accompanied by morning meetings to discuss progress.  Don't worry, though:  "Breakfast is included," says Dr. Smith.
The class culminates with a panel in which students present their findings. 
"We had a student present on the way panelists speak to audiences—the rapport that develops between them.   A student presented on the way gay identity is represented at Con.  One student who was particularly interested in video games studied how marketers were marketing their newest games," said Dr. Smith.  
Students are free to explore whatever interests them about the Con.  Says Dr. Smith, "I let them loose!"
For anyone out there who thinks that Con is only for fanboys, think again.  Popular culture has completely penetrated the Con.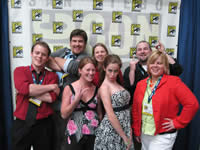 "The consumers are there," says Dr. Smith, "embracing it!"  Students of any major can find anything there that will spark their interest as well as create new options for the future, especially those who are interested in marketing. 
According to Dr. Smith, "Anyone who is thinking about marketing should be there."
Anyone interested in learning more about the Comic Con Field study can pick up literature on the program from Dr. Smith in 325 Hollenbeck or email him at msmith@wittenberg.edu. 
To find out more about Comic Con International, visit www.comic-con.org.  Also, check out an interview done with Dr. Smith about his field study on the Henry Jenkins blog "Confessions of an Aca-Fan" at www.henryjenks.com.