Communications News
November 15, 2006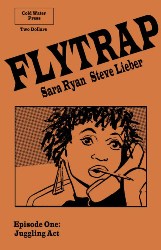 SPRINGFIELD, Ohio- Award-winning comic book creators and authors Sara Ryan and Steve Lieber will speak at two sessions on Monday, November 20.  Ryan will discuss "Rules for the Heart, Queer Literature, and Avoiding the Giant Didactic Hammer" at 4 p.m. in Ness Auditorium while Lieber will address Dr. Matthew J. Smith's COMM 220A: Comic Books as Culture class at 12:40 p.m. in Hollenbeck 336. Their appearances are sponsored by The Department of Communication, the Gay Straight Alliance (GSA), Thomas Library, and the Wittenberg Faculty Endowment Fund Board.
Ryan is the author of the novels "Empress of the World," winner of the Oregon Book Award, finalist for a Lambda Literary Award, and an ALA Best Book for Young Adults. She has also authored "The Rules for Hearts" forthcoming from Viking in 2007.  She also writes comics, including "Flytrap," "Me and Edith Head," "Hellboy: Weird Tales," and "Panel Two," all of which are co-created with Lieber.
Lieber is best known in the comic book community for his gifted artwork.  His art has appeared in comics published by 
Dark Horse, DC, Marvel, Oni, Wildstorm, Vertigo, Image, Harris, G.T. Labs and many others. His best known work includes runs on "Detective Comics" and "Hawkman," as well as the graphic novel "Whiteout," and its sequel, the Eisner Award-winning "Whiteout: Melt." He is also the co-author of "The Complete Idiot's Guide to Creating a Graphic Novel."  Lieber will discuss various stylistic approaches in comic history with Smith's class.
Selected books from these two creators are available in Thomas Library, including "The Complete Idiot's Guide to Creating a Graphic Novel," "Whiteout," "Whiteout: Melt,"  "Road to Perdition 2," "Hellboy: Weird Tales," "Flytrap," and "Me and Edith Head."  They will be available in the reserve section of the library.
Both events are open to all members of the campus community.