Communication's News
Spotlight on Research: Trevor Grandy and Will Krueger
Seniors Trevor Grandy and Will Krueger have been hard at work researching Spongebob Squarepants and Diesel Clothing ads. Learn about how their research incorporates what they've learned over their four years at Wittenberg by clicking here.

Dr. Smith Publishes Comic Book Encyclopedia Set
Smith's latest publication "Icons of the American Comic Book: From Captain America to Wonder Woman" has been three years in the making. For more information, click here.

Dr. Helene Shugart Visits Campus: Interacts with Students, Presents for Colloquium
Dr. Shugart visited campus on January 28 for a full day of interacting with Witt students. For details on her visit, check out this page.


Professor Travels to Denmark for Conference
Dr. Sheryl Cunningham recently returned from a trip to Copenhagen, Denmark. Find out about her experiences here.

Professors Attend National Communication Association Conference
Drs. Waggoner and Warber attended the 2012 NCA conference in Orlando, FL this year and ran into quite a few Wittenbergers! For details on the event, check out this link.

Alumnus Anna Morris ('10) Visits Campus
Anna Morris (List) recently visited Wittenberg and sat in on Dr. Warber's Relational Communication class. For her great advice on job searching and keeping things in perspective, visit this link.

​Professor Attends Television Arts & Sciences Faculty Seminar
Dr. Matthew Smith recently attended the 24th Annual Academy of Television Arts and Sciences Foundation Faculty Seminar in Los Angeles where he learned a lot about television. For details about his trip, click here.
Utilizing Communication Skills: In and Out of the Classroom

Junior Desi Kirkman recently scored an amazing touchdown that was ranked #2 in the "Top Ten Plays" segment of SportsNation on ESPN. What does he attribute to his success as a team player? Click here.
Professor Publishes Work
November, 2012

Dr. Sheryl Cunningham recently had a chapter she wrote published in a book titled, "Media Depictions of Brides, Wives and Mothers." For info on her chapter, click here.
First C.A.B.L.E. Class Announced!
October, 2012
The Communication and Business Leadership Experience (C.A.B.L.E.) recently announced its first class of 12 students, a combination of Communication and Business students. The C.A.B.L.E. program is expanding, replacing the Communication Leaders program. For details, click here.

Communication Alum is Local Dancing Celebrity
May, 2012
Alumnus Meredith Berzins ('11) is participating in the fourth annual 'Dancing with Clark County Celebrities' representing Children's Rescue Center. For details on the event, click here.
Communication Alum Guest Lectures Methods Class


April 2012
For Katie Nemeth ('10), the opportunity to visit campus in the spring and guest lecture a Methods course was too good to pass up. To read more, click here.

Dr. Waggoner Creates Alternative Spring Break Trip
April 2012
Students from a variety of majors participated in Waggoner's Spring Break Service trip to Cary, Mississippi.
Profile: A Professor's Passion for Research


April 2012
Dr. Katie Warber, Assistant Professor of Communication, is constantly researching. For the self-proclaimed "relationships girl," the studies she conducts both focus on relationships in a topical sense, but also carry meaning for her personally.
 
Lambda Pi Eta Members Committed to Community

Service
March 2012
Eight new Lambda Pi Eta members were inducted to the Wittenberg chapter on Feb. 13. Since then, the group has shown their committment to community service through volunteering locally...

Communication Majors Bring Home National Championship
March 2012
Three members of the National Championship Volleyball team reflect on how a Communication major has helped them outside the classroom. To read the story, click here. 
 
Communication Department Earns Prestigious National Award  
March 2012
Wittenberg University's Department of Communication was recognized by its peers with the 2010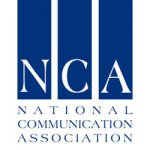 Rex Mix Program of Excellence Award, the top honor presented annually by the Undergraduate College and University Section of the National Communication Association (NCA) at the organization's convention in San Francisco, Nov. 14-17, 2010. Read more...
Communication Leaders Present about Future of OCC


December 2011
On Dec. 5, the Comm Leaders discussed the future of the Oral Communication Center in front of Provost Chris Duncan and university faculty and staff. For more information about their proposal, read this story. 
Integrated Media Corps Hosts Open House
February 2012

The Integrated Media Corps, an internship opportunity for juniors and seniors who enjoy working in media production, is hosting an open house for students interested in the program on Feb. 7 at 11:30 a.m. in Hollenbeck Hall 336.
Students to Present Research at National Conference

November 2011
Seniors Dana Makstallar and Jenny Schaafsma will present their research findings at the National Communication Association Conference held Nov. 17-20 in New Orleans. For more info on their research, click here.

Professor Publishes Second Book about Graphic Novels
October 2011
Dr. Matthew J. Smith is pleased to announce the release of his second book, "Critical Approaches to Comics: Theories and Methods" on Oct. 29.

Department Celebrates 10th Anniversary
October 2011
 The Department of Communication celebrated its 10th Anniversary and "Program of Excellence" award with a Homecoming Reception on Oct. 22 from 10:30 a.m. to noon at the Bayley Alumni House... 
Junior Night Provided Insight to Majors 
October 2011

The fourth annual Junior Night, hosted by department faculty, took place Sept. 20 at 7 p.m. at Dr. Cathy Waggoner's home. All junior communication majors attended this dessert social...

Student Presents at 75th Annual OCA Conference
October 2011

Tyler Hall, '12, presented his research findings about the portrayals of Chrisitianity in media at the 75th Annual OCA conference from Sept. 30 through Oct. 1 at the University of Findlay. For a recap of the conference, click here. 
Jesse Fox to Present Research Findings for Fall 2011 Colloquium
September 2011

Dr. Jesse Fox, Assistant Professor of Communication at The Ohio State University, will present the findings of her research on social media at the Fall 2011 Department of Communication Colloquium, to be held on Sept. 12 in Bayley Auditorium at 4:30 p.m. More...
E. Patrick Johnson to Perform for Spring 2011 Colloquium
February 2011
The Department of Communication is proud to announce that the Spring 2011 colloquium will be a performance by E. Patrick Johnson, Professor of Performance Studies at Northwestern University. He will be performing his most recent work, "Sweet Tea: Black Gay Men of the South Tell Their Stories" at the Springfield Museum of Art on Feb. 8 at 7 p.m.  For more information about E. Patrick Johnson and his performance,
click here
. 
Integrated Media Corps Open House
February 2011
The Integrated Media Corps just announced they will be hosting an open house for students interested in hands-on experience with media production. The open house will be Feb. 8 at 11:30 a.m. in Hollenbeck Hall 336. For more information about Integrated Media Corps,
click here
.
From Springfield to Chicago:
Summer Journalism Institute Gives Students Opportunity of a Lifetime
Last summer, the Wittenberg English Department offered an innovative screenwriting class that gave students the chance to work in depth with a successful alumni.  This summer, the department plans to do it again on a much bigger scale, and in an entirely different way.  Read more...
Yesterday's Comm Major is Today's Working Professional

No question sends chills into the hearts of graduating seniors more than "What are you going to do after you graduate?"  In the current job market, hopes of landing a dream job and achieving immediate success have been replaced with simple wishes for employment in whatever form it presents itself. Read more...
 Making Camp a Hit with National Audience
April 2010
When Wittenberg Communication professor Dr. Catherine Egley Waggoner returned from Chicago for the National Communication Association (NCA) Conference, she had more to think back on than the usual bouts of lectures and paper presentations.  Her book, Making Camp: Rhetorics of Transgression in U.S. Popular Culture, received the Best Book Award from the Critical Studies Division and The Bonnie Ritter Award from the Women's Caucus/Feminist and Women's Studies Division of the NCA, as well as much acclaim at this year's conference. Read more...
Comic Con Field Study Prepares for its Fourth Run
March 2010
What do millions of intense comic book fans, the largest brand names in media, and Wittenberg
have in common?  All three have made their mark on San Diego's Comic Con International, the biggest comic book convention in the world.  This summer, Wittenberg students will return to Comic Con for their third summer field study, lead by Communication Department Chair Dr. Matthew J. Smith.  Don't be fooled by the name, though.  While Comic Con may have started out that way, "It's about more than just comics," says Dr. Smith.  Participants of the convention can expect to see nearly anything and everything related to pop culture; from video games to television shows to movies, Comic Con has it all.  In fact, Comic Con is usually the place where it all starts. Read more...
Colloquium Speaker Encourages Students to Take Environmental Comm
October 2009
"All communication is environmental," says Dr. Stephen Depoe, professor of environmental communication as well as director of graduate studies at the University of Cincinnati.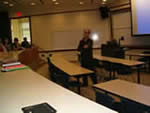 Depoe challenged an audience of over 100 students and faculty to see the way in which environmental and communication studies fit together, even though the two may not automatically come to mind as related.
Campus Movie Fest Returns to Witt
October 2009

The Campus Movie Fest has returned to Witt for its second run, once again giving students the opportunity to express their creativity through film by providing students with all the equipment necessary to make a movie. With some hard work and a little inspiration, students could potentially make an award winning film, just like senior Joelle Ghanem did last year. So where did Joelle get her inspiration?  "I got the idea for my film from watching kids around campus play Frisbee golf." Read more...
Communication Major Brings Springfield to Witt
September 2009

When Leslie Chasteen found a project that combined the knowledge she's gained from her communication studies and the commitment she feels to the Springfield community, it was the Wittenberg student body that reaped the benefits.  Passport to Springfield, which completed its second run at Wittenberg last month, was organized by Chasteen who is a senior communication major at Witt.
Passport to Springfield allows local area businesses to come to Wittenberg and display their services in the bottom of the Benham-Pence Student Center.  Students go to each station and get a sampling of everything that Springfield has to offer, receiving things like free food and discount coupons along the way.
"It's pretty cool that businesses are excited to come to campus," Chasteen said. "The event is doing what it set out to do. It's making connections between students and the community."
Read more about Leslie Chasteen and Passport to Springfield.
Communication Student Finds her Voice
September 2009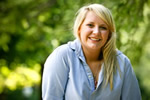 For communication major Ariel Andrews, her major isn't the only thing helping her discover her light.  Like all Witt students, Andrews is taking advantage of everything Wittenberg has to offer in order to become a well rounded person, and for her that includes singing as well as communication studies. "Making music," Andrews said, "became something that I loved, something I became good at.  Then it became something that I could always rely on to keep me happy." Andrews, a junior at Wittenberg, plans to pursue both her communication and music interests.  She feels that her communications degree will help her obtain credibility with the business side of the music industry.  This fall, Andrews will further her communication education by studying at the Danish Institute of Study's communication program in Copenhagen, Denmark.
Photos of Dr. Orbe's Colloquium Presentation
April 2009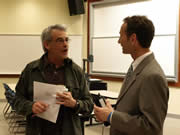 The Department of Communication had the honor  of presenting Dr. Mark Orbe as the Speaker for the Spring 2009 Colloquium. His talks on race and rhetoric in reality television and it's implications for "real world" perceptions engaged students throughout his multiple appearances on campus. Thanks to Dr. Orbe and all of the people that made these events possible!

"Death of Analog" Party Photos
April 2009
On February 17th the Department of Communication in conjunction with
the Communication Club hosted a "Death of Analog" Televison Party to celebrate the greatest moments in television history while raising awareness among students and the community about the impending switch from analog to digital signals in U.S. broadcasting.
Read more and see the photos...
And Now For a Formal Introduction: The Communication Department Minor!
April 2009
For the first time, the Department of Communication will now we offering a minor in Communication! To view the requirements for the minor, follow this link. If you have any further questions, please visit the Department of Communication office in 319 Hollenbeck Hall for literature or contact the Department Chair, Dr. Smith.
Congratulations to the Newly Inducted Members of Lambda Pi Eta!
March 2009
The Xi Phi Chapter of Lambda Pi Eta inducted three new members, Leslie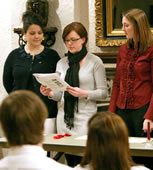 Chasteen, Katharine Nemeth, and Amy Prugh, on Thursday, February 26th during its annual Spring Induction Ceremony. The officers would like to especially thank the initiation speaker and University Photographer Erin Pence for the multiple services she provided as well as Laura Harrison, the Department of Communication Academic Assistant for all of her hard work in organizing the event! Thank you and congratulations to the new members!
For more information on the event and what Lambda Pi Eta is doing at Wittenberg this semester read the feature story on the University Home Page! Also, check here for photos of the induction ceremony.
Congratulations to Communication Majors Who Appeared on the Fall 2008 Dean's List!
January 2009
The following Communcation majors achieved academic honors in the Fall 2008 semester by maintaining a 3.5 semester GPA and appearing on the university's Dean's List! Congratulations each and every one of them on their hard work and dedication to their coursework!
Leslie Chasteen
Kelly Clark
Jennifer Dick
Masakazu Fujiwara
Kathleen Graham
Erin McBride
Katherine Nemeth
Keith Pfeffer
Maryam Rezayat
Erin Slattery
Sarajane Stofac
Gretchen McIntosh
A Wittenberg Feature!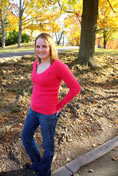 December 2008
Wittenberg features senior Communication major, Kelly Eggers' story on the website. Read it here...
(November, 2008)
Lambda Pi Eta Welcomes New Members!
On Tuesday, November 9th, Lambda Pi Eta welcomed seven new
members to the Communication honorary which extends membership to Communication majors who excel in the classroom and on campus, as well as students who have expressed a commitment to the field of Communication. Read more...
Click here to go to LPH's Wittenberg Xi Phi Chapter website.
(August, 2008)
Introducing the Two New Members of the 2008-2009 Communication Faculty!
Next year will be an exciting one for the Wittenberg Communication Department, as we will be seeing two new professors joining the faculty! Prof. Kristine Warrenburg will be filling in for the 2008-2009 academic year for Dr. Waggoner while she is on sabbatical, and Dr. Sheryl Cunningham will be joining the faculty in a tenure-track position. Both new professors orginally hail from the Midwest, so hopefully they'll enjoy their new positions on Wittenberg's campus!
As a way of welcoming the two new professors to Wittenberg, Lambda Pi Eta members contacted them by email and asked a few questions about their personalities. Hopefully the following questionnaires will help students get an idea of what to look forward to come the Fall.
(May, 2008)
The Communication Honors Thesis: A Sheep in Wolves' Clothing?
When many students hear the words, "honors thesis" as far as they are concerned the words may as well have been, "Unnecessary hard work." It is hard to blame them; the requirements of writing a thesis, successfully defending it before a committee, and presenting it at a departmental colloquium do seem daunting. Regardless of how intimidating attaining Communication Honors may seem however, year after year multiple Communication majors still take the thesis path.
So why do they do it?  Read more...
(May, 2008)
Congratulations to Caitlin Augustus. winner of the New York Times Letter to the Editor Contest!
Caitlin Augustus, senior communication major, wrote a heartfelt letter to the Springfield News Sun around Christmas concerning those less fortunate in our city. In her letter she advocated, in her words, "gratefulness, compassion, and, most important, action." She called upon the city of Springfield to not turn a blind eye to the people who have little to be thankful for, but to reach out to them regardless of how busy people may be. The letter was published on December 16th, and the Communication Department would like to commend Caitlin for her effort. Hopefully through her words lives can be touched throughout the greater Springfield area.
(February 28, 2008)
Dr. Brian Spitzberg Presents Communication Colloquium on March 13th!

The Communication Department is proud to be hosting Dr. Brian Spitzberg, an accomplished researcher on stalking and unwanted relationships, as the speaker for the next Communication colloquium this semester. His talk, entitled "Stalking and Unwanted Relationship Pursuit: Cultural Corruptions of Communication and Courtship," will begin at 4:00pm on March 13th, and will be held in Bayley Auditorium. All Communication majors are expected to be in attendance. For those interested in finding out more about Dr. Spitzberg, how he became interested in his field of study, and what exactly to expect from the March 13th colloquium, the link below will direct you to the appropriate page.
(February 15, 2008)
Featured Senior Communication Major: Keeley Buehler 

When Keeley Buehler came to Wittenberg, she wasn't exactly sure what her major would be, but she did know one thing – she wanted to work with fashion. If you ever have the pleasure of meeting her, you'll understand why right away - Keeley is one of those people that, no matter what the weather, will be looking sharp every day of the week. When Keeley found as a freshman that there were no design or merchandizing programs at Witt, she knew she would have to look to other departments to channel her love of style into something workable. Luckily for her, she met Dr. Matthew Smith.
(November 8, 2007)
Consulting Professional Candice Lange to Speak at Second Communication Colloquium on Thursday, November 8th at 4pm in Bayley Auditorium.
SPRINGFIELD, Ohio – Candice Lange, President of Lange Advisors, will be speaking at the Communication Department's second colloquium on Thursday. A veteran of the consulting business, she will discuss how to successfully deal with stress and potential heavy workloads that students will encounter post-graduation. *Reminder: All Communication majors are required to attend this event!
(October 19, 2007)
Communication Department Welcomes Back Recent Graduates for Alumni Career Day, and Congratulates Lambda Pi Eta Fall Inductees!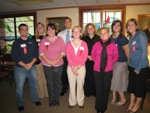 SPRINGFIELD, Ohio - On Friday, October 19th, Communication major alumni from the past four years returned to their alma mater to speak to current Comm. majors about their experiences in the "real world." The nine speakers related their stories of finding jobs, acquiring promotions, moving to new locations, and getting along post-Wittenberg.
(October 4, 2007)
Senior Communication Majors Keeley Buehler and Sarah Fetters to Present Papers at Ohio Communication Association Conference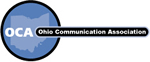 SPRINGFIELD, Ohio - On the morning of Saturday, October 6th, senior Communication Majors Keeley Buehler and Sarah Fetters will be presenting papers at the Ohio Communication Association conference. To present a paper to a national organization while still an undergraduate is a distinct honor, and the faculty and staff of the Communication Department are very proud to have such accomplished students in the discipline. Read More...
(September 20, 2007)
Introducing Assistant Professor Mohamed Sati: Wittenberg's Newest Visting Professor

SPRINGFIELD, Ohio - When Dr. Matt Smith, the chair of the Communication Department at Wittenberg, decided to take a sabbatical leave during the 2007-08 academic year, it quickly became apparent that a temporary replacement had to be found to teach his courses. The solution to the problem came in the form of Mohamed Sati, a Sudanese graduate student interested in international communication, global media systems, and the impact of new technologies on communication.
(September 10, 2007)
Communication Major Claire Johnson Delivers Leadership Speech
SPRINGFIELD, Ohio – Senior communication major Claire Johnson recently had the honor of delivering a speech at Mount Notre Dame High School in Cincinnati to one thousand students regarding the meaning and importance of being an "Everyday Leader."
(May 20, 2007)
Senior Farewell 2007

SPRINGFIELD, Ohio - After four hard years  of countless Communication courses from Dr.'s Broz, Jordan, Smith, and Waggoner, the class of 2007 bids farewell to the halls of Hollenbeck and room 336. Read more...
(April 19,2007)
Communication Major Speaks for Curriculum Change

SPRINGFIELD, Ohio - During chapel hour on April 19, 2007, Kristen Scheerer was speaking to professors and administration in hopes of changing Wittenberg curriculum.
(April 13, 2007)
Seven Communication Students Take Home Academic Awards

SPRINGFIELD, Ohio - At Wittenberg's annual Honors Convocation,
several Communication majors were honored for their outstanding
academic and athletic accomplishments.  Read more...
(April 4, 2007)
Communication Leaders Visit Chicago
CHICAGO, Illinois - Seven seniors, part of Wittenberg's
first-ever Communication Leaders program, concluded
their program with a four-day trip to meet with some of
the top business professionals in America. Read more...
(March 27, 2007)
Documentary Filmmaker Visits Campus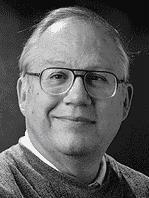 SPRINGFIELD, Ohio - John de Graaf, documentary
filmmaker, author, and social critic, will address
Wittenberg on Thursday, March 29.  His colloquium will
focus on U.S. family rights policies and how they affect
Americans.  Read more...
(February 11, 2007)
A Closer Look Into Kathleen Warber
SPRINGFIELD, Ohio - The members of Lambda Pi Eta
decided to take it upon themselves to find out more
about the newest Communication professor.
(February 5, 2007)
Need Help In Your Communication Class?

SPRINGFIELD, Ohio - Sometimes succeeding in
Communication classes takes a little more effort
than usual, but there are people who can help. 
(February 1, 2007)
The Newest Faculty Member
SPRINGFIELD, Ohio - After months of anticipation, the
Wittenberg Department of Communication is proud to
introduce its newest faculty member, Kathleen Warber.
(December 1, 2006)
A "Dog's Breakfast" of Comic Knowledge

SPRINGFIELD, Ohio - A "dog's breakfast" is
exactly how to describe Monday, November 20. 
Defined by Steve Lieber as "a little bit of everything,"
Lieber and his colleague/wife Sara Ryan enlightened
Wittenberg audiences.  Read more...
(November 15, 2006)
Comic Book Creators to Visit Wittenberg

SPRINGFIELD, Ohio - Award-winning comic book
creators and authors Sara Ryan and Steve Lieber
will speak at two sessions on Monday, November 20.