Comm Alumna Shares Job and Internship Experiences with Students
Communication Alumna Sarah Fetters ('08) visited the Comm Leaders on April 25 and also hosted a luncheon for students on April 26 to share her post-graduation advice and experiences. Fetters currently works as Assistant Director of Athletics Media Relations at East Carolina University in Greenville, N.C. During her tenure at Wittenberg she was an intern in the Office of University Communications in addition to playing softball.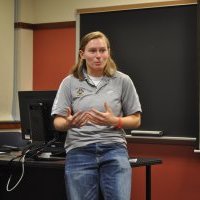 Fetters shared her wisdom about job searching, internships, and life after college. She also explained the path she took to successfully get a job afer she graduated and how a Communication major from Wittenberg helped her to get there.
"I don't know a better application of communication theories than interacting with fans on social media," said Fetters, who says a large part of her job is making fans feel like they are connected to the program.
Her biggest piece of advice to students looking for jobs is that "Sometimes it's not about what you know, it's about who you know. Shake hands, meet people, get to know them."
Ryan Maurer, Director of News Services and Sports Information, hired Fetters during her senior year at Wittenberg and was impressed with Fetters' enthusiasm and willingness to learn. 
"Sarah came in and she would say, 'Can I write that, will you edit it?' She went above and beyond," said Maurer.
Fetters loves her job but also hopes to move on to bigger and better things.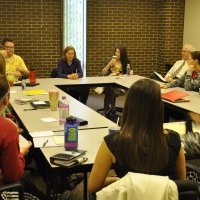 "My dream job is to get back to a Big Ten school," said Fetters. She also hopes to go back to school and get a Master's Degree to end up in an administrative position at a D3 school.
Fetters' biggest piece of advice about graduation and finding jobs is this: "Find your passion. The first thing you think about in the morning is what you need to be doing for the rest of your life."
By Shelly Gregory, 2013