Computational Science
Printer-Friendly Version
Computational science is the field of study that integrates natural science, computer science, and applied mathematics. The problems addressed by computational science typically come from one of the natural sciences. The models developed to describe these problems and the methods used to solve them are often (although not always) mathematical in nature. The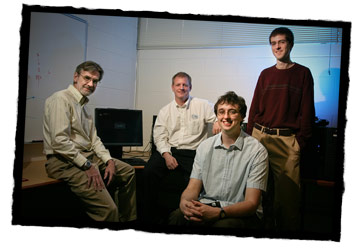 implementation of the algorithmic methods requires computer science knowledge for accurate, efficient, and reliable results. The spectrum of scientific problems ranges from models that can be solved on a calculator, through models that require symbolic, numeric, and visualization software, to simulation and optimization models that are so complex that a supercomputer is necessary to solve them
Computational science has now taken up a position along with the traditional use of scientific theory and experimentation as a third paradigm of scientific methodology. This is largely due to the successful employment of the computer in research and development to model complex physical events, to process large quantities of data, and to provide important insights. Because of the increasing importance of computational science, some of these skills must be provided to the undergraduate science student as well as to the graduate student. Computational science courses clearly strengthen a science program. In addition, within a broad-based liberal arts setting, it is also important to provide a balance that includes communication skills and an appropriate combination of ethics and philosophy of science.
Goals of Computational Science Within a Liberal Arts Environment:
Ability to understand and do science
Skill to develop and use valid scientific models
Knowledge of the strengths and limitations of the methodologies used
Proficiency to express ideas orally and in writing
Desire to Use ethical practices for the benefit of society
Required Courses for the Wittenberg Computational Science Minor:
COMP 150 - Computer Programming I (Using C/C++) (5 semester hours)
MATH 201 - Calculus I (4 semester hours)
    or MATH 131 - Essentials of Calculus (4 semester hours)
COMP/MATH 260 - Computational Models and Methods (5 semester hours)
Selected Courses in Biology, Chemistry, Computer Science, Economics, Geology, Mathematics, or Physics (8 semester hours)
Capstone Computational Science Experience (4 semester hours or equivalent)

Contact the Director of Computational Science, Dr. Eric Stahlberg, for more information.

Other Computational Science Programs and Resources:
-The Shodor Education Foundation, Inc.
-Wofford College Computational Science Site
-Oak Ridge Computer Science & Mathematics Division
-Sandia Labs Research Foundations
-NASA/AMES Computational Science Division
-George Mason Computational Sciences and Informatics
-Boston University Center for Computational Science
-Montana Connected Curriculum Project
-National Computational Science Alliance
-Northwest Alliance for Computational Science and Engineering
-Computational Science & Parallel Processing Training and Materials Archive
-NHSE Computational Science Education Links Initial support for this project was provided by a grant from OFIC, the Ohio Foundation of Independent Colleges, Inc.