Dr. Brian J. Shelburne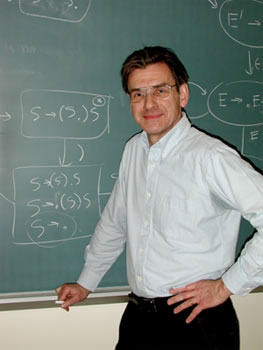 Associate Professor of Computer Science
Chair of the Mathematics and Computer Science Department
(937) 327-7862
bshelburne@wittenberg.edu
Brian J. Shelburne, Associate Professor of Computer Science and now Chair of the Department of Mathematics and Computer Science, teaches courses in both mathematics and computer science. Originally (and still) a mathematician with a research interest in operator theory and Hilbert spaces (he published a paper based on his dissertation titled "The Operator Mz on Hilbert Spaces of Analytic Functions") his interests shifted into computer science. His current interest in the history of early computers lead him to co-author with Chris Burton (from the UK) a paper titled "Early Programs on the Manchester Mark I Prototype" which appeared in the July-September 1998 Issue of the IEEE Annals of the History of Computing. He also wrote a simulator for the "classic" PDP-8 computer which he uses in his teaching. A description of the PDP-8 simulator can be found in his article "A PDP-8 Emulator Program" published in the ACM Journal on Educational Resources in Education (JERIC) Vol 2. No 1. March 2002 (also see the article "Teaching Computer Organization using a PDP-8 Simulator" in the SIGSCE Bulletin - Conference Proceedings Vol 35 No 1. March 2003) or on his PDP-8 Home page website.
Currently his research interests include chaos theory and fractals (areas common to both mathematics and computer science), history of mathematics, theory of computation, computer architecture and the history of computers. He also likes writing software for use in his classes. His Alternate Home Page provides links to other interests.
Previously chair of the Department of Mathematics at Sweet Briar College , he earned his B.S. in Mathematics from Davidson College, his M.A. and Ph.D. in Mathematics from Duke University, and his M.S. in Computer Science from the University of North Carolina at Chapel Hill. Other hobbies and interests include running, biking, reading science fiction, military history, biographies and books on mathematics, and writing simulation software for use in his courses. He came to Wittenberg in 1987. He is happily married to a wonderful wife, Bonnie and has an 15 year old son Ian.
Links to Stuff I'm Interested In