Service Abroad in Shanghai and Kunming China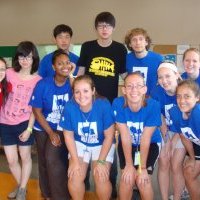 Seven Wittenberg students are spending the summer in China; for the first two weeks, they are teaching English at Yew Wah International School in Shanghai.  Then they go on the road as day camp counselors for children of migrant workers.
Here are some of their stories and pictures.
June 27th
Shanghai so far has been great!  The school is wonderful as well as the staff and students.  You can definitely tell the love the teachers have for these students by the patience they have.  I was surprised that almost all teachers at this school are foreign.  I have heard many stories from teachers that during their first year of teaching at Yew Wah they hated it and wanted to leave.  But after the second year they love it and the kids are what keep them here.
The rooms here are great!  I am thankful for the air-conditioning!
I have been teaching a boy since Monday and will finish next Thursday.  It has been a good experience thus far.  I am most looking forward to starting the camps come July! The seven of us have fully planned all the camps that we are conducting here in Shanghai then Hubei, followed by Kunming.  I look forward to the challenges that we will face as being the leaders of Yew Wah's camps.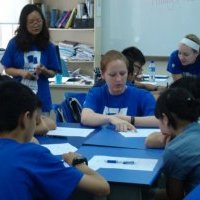 Aside from all the adventures in Shanghai, we have been doing some work, which have been quite wonderful (I guess you do need a little balance in life.)  We have been helping out a dozen or so students for their "summer review" before they take their final exams. These are mostly students who have either fallen behind, want the extra help, or just really struggle with English. I personally have been working with three students (Judy, Cici, and Catherine…those are their English names) on a sort of beginners English level. We've been going over prepositions, articles, and verb tenses (present, past and future simple, progressive, and perfect… and the students are wonderful. It's a lot of work. But I'm really enjoying it. We play hangman, Uno, the Guess Who I Am game (where you tape the name of a famous person onto your head or shirt and ask yes or no questions in order to try and guess who you are), crossword puzzles, and I've been playing them a little guitar as well (A little Bob Dylan, of course). We have also been reviewing the children's versions of Frankenstein and Phantom of the Opera. In the afternoons, we Wittenberg students have been learning Chinese…yeah, that's rather difficult, I might say, but it's been an experience, and it's been fun… and a really great opportunity too. I wasn't expecting such hospitality.
July 8
Here's a little information on our first week of English day camp (one of three, the second one of which we shall be running this coming Monday in Hubei.. We might be out of contact for around 3 weeks, depending on the conditions of the third camp in Kumming).
Well, as I already said before, the Summer Review went exceptionally well. I had so much fun teaching these kids English. But it was nothing compared to the work we did this past week, for our first English day camp.  It was held right here on the Yew Wah campus.
Breakfast started at 7:05, and the students started showing up around 8 and 8:15. The whole party started at 8:30, which consisted of an assembly, announcements, dancing, a skit (all the team leaders wrote plays that introduced the theme of the day, such as patience, honesty, respect, which was always tied to the song of the day and everything else. And we all acted in the plays as well.) and then team discussion (there were four teams, yellow, blue, green, and red). This all lasted from 8:30 to 9:30. At 9:30 we started our classes and continued that until 3:30 every day (with lunch in the middle, of course). There were four classes, so that each team would be doing an activity (btw there were a little over 80 kids…in Hubei we'll have close to 200 and in Kunming we'll have close to 500), music, sports, crazy camp games, and English conversation.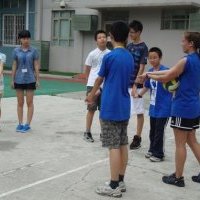 We had teams for singing, sports, dancing, and 'crazy games'. and  ended up teaching the kids the songs, "If I had a hammer," by Peter, Paul and Mary, "Somewhere Over the Rainbow," "We're Going to be Friends," by the White Stripes, "One Love," "Lean on Me," and "Here Comes the Sun." We taught them the cup game, which I don't think I'll try and explain right now (you just have to see it), musical chairs (although they already knew how to play that one), line dancing and swing dancing… yes, there's some video of me teaching a group of middle school boys and girls how to swing dance!.
We started each day with dancing and I led the Crazy camp games station. Because of both of these, I got the nicknames Crazy dancing lady, or just Crazy Christiana!!! I had 2 Jerrys and 2 Tommys and 1 Tom in my group! That made  things interesting!!!
Camp is going so well this week!  We have gotten so many compliments how even on the first day they have never had a camp run as smoothly as ours.  Teachers and Administrators have told us that they have never seen a group put in as much time and effort as we have either.  It is really great how well the seven of us work together!  We all have our niche and compliment each other perfectly!  I could not ask for a better Wittenberg Team to be here with!  We all are vital to the daily running of the camp!
We had 4 students from Yeh Wah who worked with us all week. Loraine was the one who worked with my team, green life, all week. She is going to be a Senior this year and has GREAT English!!! It was fantastic having her all week! She was so much fun to be around and great with the kids! We found out throughout the week that her boyfriend was actually another one of the Yeh Wah students that was helping out, Lex. They were sooooo cute together and both so great with the kids. They both want to study in America and so we have been giving them tips and answering questions that they have about different places. I am very thankful to know so many people who go to so many different Universities so that I can connect them with people who are looking at thier University.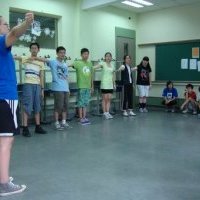 But to say the least, it was absolutely amazing! The kids were so sweet and full of such joy and freedom. They were required to write a skit of their own by the end of the week that explained a little bit about what they learned at camp (four skits, actually…one for each group, which they performed for their folks on Friday), and one of the skits involved the students imitating all of us. It was hilarious, but sweet too.
July 22, 2011
I shall begin with the train ride If you enjoy living in compartments containing six bunk-beds covered with sticky, moist sheets, compartments without doors nor curtains--which might offer some decent amount of privacy, then you will have enjoyed this train ride.
Compared to Shanghai, with all its wonderful smog, Hubei was absolutely beautiful. Yes, that was a little sarcastic, but all sarcasm aside, Hubei was really pretty. We could finally see the moon, orange and forlorn, and we could see the austere mountains hovering over the horizon. It felt like home a little, seeing all the fields of corn, and finally seeing grass and trees again. It was wonderful, but the actual camp was very much a challenge. The conditions of the little town we were staying in reminded me very much of the conditions that I lived in when I worked on an orphanage in Mozambique, Africa. There were large piles of trash in the streets, and piles of charcoal where the people had burned their trash, dogs wandering the streets aimlessly looking for food, and a good number of the children wearing withered clothes. It was not as much of a culture shock to me as it was to some of the others, seeing as I'd witnessed some extreme poverty in Africa, but it was still a little unexpected. The children at the camp were absolutely wonderful, and it was terribly sad leaving them all by the end of the week, but the experience of Hubei was rather challenging.   All of us (except Erica, unaccountably), got sick in one way or another….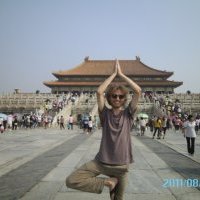 After Hubei, Midea (the Chinese lady from Yew Wah who is running the whole trip) took us on a four hour train ride to her family's home, and they were kind enough to treat us to an evening foot massage... but this was no ordinary foot massage. We walked into what looked like a magnificent palace. We were told to sit down in the large lobby, with a grand chandelier hanging above us, and they gave us all little slippers. We were then led into a dimly lit room with fluffy massage bed/chairs. What we were told was going to be a foot massage soon turned into a movie and a full body massage, including the head, the hands and arms, back, neck, legs and then feet... it was the most amazing experience. There was a large screen where we could watch a movie while we got our massage and the girls chose The Pacifier... It was Allissa's birthday and I was getting a massage, so I didn't complain…
We finally arrived at the Kunming resort, which is honestly the most beautiful place I've seen in China. The countryside reminds me of the countryside in Italy, with the tall, thin trees and the great fields rolling over to the mountains. I could live here. There is a small pond with an island in the middle of it with stepping stones leading up to it. And the architecture is actually oriental, as oppose to the westernized Shanghai. The kids are wonderful and sweet, though the teachers keep them on their toes... almost to the point to where it looks like they're in the army. And even though the teachers complain about every little thing, like how Here Comes the Sun by the Beatles isn't catchy enough, or isn't fast enough for the kids (even though the kids love the songs), the camp is turning out to be the best one of them all.
We wake up every morning at 6:40 in order to do morning exercises with the kids (they are around 11 years old or younger), then we have breakfast, then the morning assembly, then five classes lasting a half hour each, then the afternoon session, and another five classes. We're kind of running two camps, one for the third and fifth graders in the afternoon, and then one for the first and second graders in the morning (I'm not sure what happened to the fourth graders).
 It might be the sudden change of atmosphere and environment and the fact that I am no longer sick, or maybe the wonderful spirit of the children, but I really feel like this place has completely rejuvenated me. I think there's something about nature that brings us back, and back to what, I'm not entirely sure, but I've felt more alive here in Kunming than I've felt in a long time. Just the other night, after dinner and classes and feeling completely drained from all the days work, a quiet, orange light flashed off in the distance, out by the mountains. The sky turned gray and the wind picked up. It filled the trees and let them sing with the coming thunder. I went inside and made a cup of bitter green tea, came back outside and sat on the porch with the wicker chairs and the rock garden just a few yards away, and I watched as the storm came in.
In Japan, they believe that anything that is awe-inspiring is a god. They call them Kami. Here in China, there is the belief (at least in Taoism, which originated in China) that we are connected to that sort of awe-inspiring beauty that we see in nature. Whatever it is, that storm carried it in the wind and brought it to me, and I am grateful.