Dr. Ralph Lenz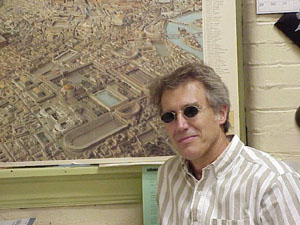 Dr. Ralph Lenz, Professor of Geography, teaches about atmospheric processes, biomes, soils and agriculture, several methods courses, and regional courses on Southeast Asia and China.  Lenz has traveled extensively in the third world, accompanying Fulbright-Hayes groups in India and Zimbabwe, Malawi and Kenya.
A Freeman Grant took him to China; he has covered transects from Guangdong to Shanghai, Chongqing to Wuhan on the Yangzi River, and the Silk Road West from Xian to Kashgar, Beijing, and the provinces of Shaanxi and Guangxi, where he has worked on a paper about a Tai-Kadai language-speaking minority. 
Southeast Asia remains his place of choice; with over 25 visits to the region, and research and publications about Jakarta, Bali, the Togian Islands in Sulawesi (check your map; they are rather remote), Vietnam, and the Thai-Cambodian border area.  In his early career, Lenz worked on quantitative measurements in point pattern analysis; among his publications were two in Geographical Analysis. Lenz earned his Ph.D from Rutgers University.
Contact Information
Ralph Lenz
Professor of Geography
Environmental processes, cultural patterns in Southeast Asia, China
rlenz@wittenberg.edu
(937) 327-7305