Robin L. Inboden, Ph.D.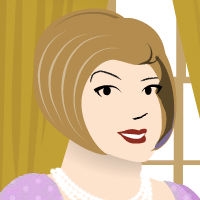 Professor of English
Office: Hollenbeck Hall 106 (937) 327-7064
E-mail: rinboden@wittenberg.edu
PROFESSOR INBODEN IS ON SABBATICAL SPRING SEMESTER 2017
Profile
By the time she was in high school, encounters with Keats, Hardy, and Cary Grant had firmly established Robin Inboden's passions for nineteenth-century British literature and American movies of the 1930's and 1940's. With the proceeds from her first national publication—an article and quiz on old movies in Seventeen magazine—she bought a Victorian reproduction chair and applied to college, where she earned her degree in English and decided to pursue graduate studies. At Wittenberg since 1989, she has directed the Women's Studies Program and the Honors Program; she chaired the English Department for nearly ten years. She has published and presented on such diverse topics as Barrett Browning, Tennyson, Wordsworth, Hitchcock, George Eliot, and screwball comedy.
Notable Accomplishments
• Alumni Association Award for Distinguished Teaching
• Martin Sampson Fellowship for Distinguished Teaching
• Cornell Class of 1916 Fellowship (awarded by M.H. Abrams)
• Phi Beta Kappa
Courses Taught 
• Victorian Arts & Society
• Victorian Secrets: Mystery, Crime, and Scandal in Victorian Literature
• Literary Immersion: Middlemarch
• Words at Work: Introduction to Grant-writing
• British Literary Genealogies: Public and Private Lives
• Hitchcock's Cinema
• Jane (Austen) Goes to the Movies
• Chick Flicks: Women in Classical Hollywood Cinema
• Nineteenth-Century Novels into Film
• Writing about Place
Degrees
• Ph.D., English, Cornell University
• M.A., English, Cornell University
• A.B., English, Kenyon College
Selected Publications
"Damsels, Dulcimers, and Dreams: Elizabeth Barrett Browning's Early Response to Coleridge." Victorian Poetry 46.2 (2008)
"'The Valor of Delicate Women': The Domestication of Political Relations in Tennyson's Laureate Poetry." Victorian Poetry 36.2 (1998)