J. Fitzpatrick Smith, Ph.D.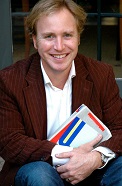 Assistant Professor of English
Office: Hollenbeck Hall 121 (937) 327- 7076
E-mail: jfsmith@wittenberg.edu
DR. SMITH IS ON SABBATICAL FOR THE SPRING 2014 SEMESTER. 
J. Fitzpatrick Smith has been a part of the Wittenberg English Department since 2005 and teaches twentieth-century British and Irish literature. Fitz leads classes on the Art of the Essay, Greco-Roman myth, and the 1920s literary scenes in New York, Paris, and London.
After completing his B.A. from Wittenberg (Phi Beta Kappa), Fitz lived in Europe before matriculating at Washington University in St. Louis, where he completed his M.A. and Ph.D. His dissertation, "Neither Here Nor There: The Literary Cartographies of Flann O'Brien, James Joyce, and Paul Muldoon," allowed him to explore formally his twin passions: Irish Literature and getting lost.
After earning his Ph.D., Professor Smith moved west, where he taught for three years at California State University, Chico.  While there, Fitz taught courses on an array of topics, from graduate seminars on Romantic poetry to surveys of Modern Drama.  A devotee to the ever-enchanting wonders of James Joyce, Professor Smith looks forward to revisiting at Wittenberg the graduate
seminars on Irish literature that he led in California.
Professor Smith has taught in and attended schools in England and Ireland, and he regularly delivers papers at conferences around the country. He contributes consistently to reviews, and his work on O'Brien, Joyce, and a host of other Irish writers has appeared in various journals.
When not wondering aloud about grammar or Finnegans Wake, Professor Smith plays acoustic guitar and listens rapturously to the hot jazz of Django Reinhardt. He also has been seen tinkering with curry recipes, accepting tennis matches, and engaging in protracted sessions of Frisbee-throwing with his patient travel companion, a young Black Labrador named Sailor.  
Dr. Smith in the News
Wittenberg Professor Challenges Students With Course
Project Modeled After National Radio Program