Endowment Honors Emeritus Professors of English Kent and Mimi Dixon
Endowment To Bolster English Creative Writing Program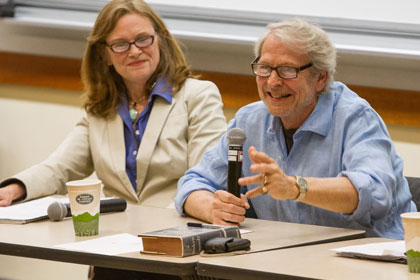 SPRINGFIELD, Ohio - For 33 years, Kent and Mimi Dixon contributed their time and talents to Wittenberg University's Department of English before retiring last year, and though their work as professors is officially over, their legacy continues with the help of a donation from their son Chris.
The Mimi and Kent Dixon Professorship in Creative Writing, will allow the English Department to hire a visiting faculty member to teach at Wittenberg for one semester each year. Chris's donation acts as seed money for the Professorship, as the university works to build the $500,000 endowment through further fundraising.
The money will be used to continue to bolster the English Department's creative writing program.   
"The endowed professorship will pay the salary for a professor selected to hold this writer-in-residence position for a semester," said Cynthia Richards, chair of the English Department.
Kent Dixon explained that the donation will allow the department to grow despite his and his wife's departure, and will allow the new professor to develop as a writer as well.
"The person we hire for a semester will be teaching only two courses as opposed to the normal load of three, because we also want this to be a fellowship for young up-and-coming writers, said Dixon. "We want to give them time to write when they're here.  So it's a great opportunity for young, rising writers. And who knows, we might hook, for a semester, the next Spielberg."
These new professors, who will rotate in and out each semester, will allow the department to offer a variety of new creative writing topics each year.
"The new professors will help infuse our program with new ideas, new energy, and new forms," said Richards. "They will continue to build the reputation of our already flourishing creative writing program."
The Professorship was established as a way to honor the Dixons' lasting work within the department; Mimi helped create the university's Writing Center and cross-curricular writing program, and Kent began the creative writing program.
"Both were visionaries, and both continue to practice their craft in innovative and life-affirming ways," Richards said.
With the help of their son, the Dixon's legacy will continue at Wittenberg for years to come.
"I like having our name on something that I hope can endure long, long after we're gone and forgotten," said Kent.  "I am much beholden to our son for this, and so is Wittenberg."
Written by: Megan Conkle '14