The List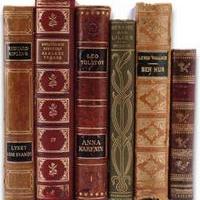 The English Department invites you to complete the list!
What is the list? It is easier to say what it is not than what it is. It is not a list of books that represents the canon. It is not even a list of all our favorite books or all the great works we hope you will someday read. Rather, it is the list of books that emerged when we asked this question of ourselves: what books do we think are essential, what books do we think no one—and in particular, no English major—should leave college without having read? And gave ourselves this limitation: we could each only offer up five books for the list and at least three of those had to come from our area of specialization.  So, the list is idiosyncratic in the best sense of the word: fourteen of us struggled individually to identify the five books we thought it most essential for you to read while in college; the 70 books that emerged from those individual choices became "The List."
     We hope you will take the challenge to read these books along with us. For those of you who complete all 70 books, you get to make a difficult choice yourself: you get to choose a book or work of literature to add to the list. For those of you who complete 50 works from the list, we will buy you a copy of your favorite work from the list, inscribe it, and then invite you at the end of the year to join us at a literary salon where we discuss these wonderful works.
   Here's how the challenge works:
Sign up in the English department office if you want to take the challenge. You have your college years to complete the list.
When you finish reading a work of literature from the list, talk with the professor or professors who recommended it about what you found most interesting about it.
Then, on the copy of the list kept in the department office with your name on it, that professor will note down that you have read this book.
When you complete 50 works, there is cause for celebration and a gift of a book and the promised party are forthcoming. If you complete all 70, you have earned the right to name your own essential book and alums will be contacting you in the future and letting you know what they found interesting about your selection.