First-Year Advising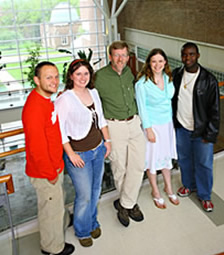 Academic advising at Wittenberg is provided by members of the Wittenberg faculty.  Approximately 30 faculty members serve as academic advisors to new students each year. The student's faculty advisor instructs the First Year Seminar class, in which all entering students are enrolled fall semester. The advisor's dual role is a crucial part of the advising program because it heightens the student's sense of belonging and establishes a close working relationship with the advisor.  The role of academic advising within the First-Year Experience (FYE) is to complement the efforts of the Seminar faculty.   FYE and Academic Services also provide support to students experiencing academic or personal difficulties that interfere with their academic success.
Basic to Wittenberg's mission is a deep concern for the welfare of each of its students and the education of the whole person.  Accordingly, an important responsibility of its faculty is to provide advice for each student about educational, vocational and personal planning.  This approach is person-centered, treating each student as a distinct individual.  The university also recognizes that personal growth and maturity are reached through acceptance of responsibility.  Wittenberg, therefore, affirms the primary responsibility for the pattern and outcome of the student's educational program, while the development of social responsibility lies with each student. 
Even though advisors are available to help with decisions, students are ultimately responsible for their own academic choices and success.  During the first year, there are several ways in which students can enhance their likelihood of succeeding in college.  There are also several ways in which advisors can assist students in their success, should students seek their advice.
The Responsibilities of First-Year Students Include:
1. Initiate and maintain contact with your advisor.
All new students are required to meet with their advisors each semester to pre-register for courses for the next semester. This meeting provides an opportunity to discuss class schedules and plan the overall academic program, as well as address any concerns students may have about their adjustment to Wittenberg. Advisors post office hours for individual appointments and are available throughout the semester to meet with students. It is your responsibility to set up a time to meet with your advisor.  
2. Read all University and departmental materials (i.e. the current Academic Catalog and the current General Education Requirements).
Final responsibility for planning a course of study and for fulfilling all requirements and regulations rests with you.  It is your responsibility to familiarize yourself with the University's policies and procedures. If you are not sure of a policy or a procedure, call the First-Year Experience office at 937-327-7924.
3. Get to know your professors.
Don't be shy; use the established office hours to visit your faculty to discuss problems and questions.
4. Start your college career off with a good GPA.
Choose classes that interest you, and make an effort to avoid overloading yourself with too many difficult courses all at once.  Don't be afraid to seek assistance if you need it.
The Responsibilities of Advisors Include:
To help the student understand the nature of a liberal arts institution,
To help the student obtain maximum benefit from the total educational experience by discussing emerging interests and relating these interests to opportunities in, and beyond, the classroom,
To assist the student in understanding the policies and regulations which give structure to the educational experience, and
To help the student begin to determine career goals based on the student's aptitudes and interests, and to outline a course of study that will facilitate achieving these goals.