Communicating with Wittenberg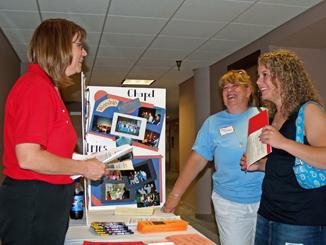 FERPA – Family Educational Rights and Privacy Act
The Family Educational Rights and Privacy Act is a federal statute that protects a student's educational record.  FERPA provides for the right of students to inspect and review their own education records, the right to seek to amend those records, and the right to limit disclosure of information from the official records.  Only those persons with a "need to know" (academic advisors, staff who need access to information to perform their job duties, etc.) are given access to the student's record.  (Health and counseling records are confidential by law and are not considered a part of your educational record.)  Exceptions to this policy include the event of a medical emergency or when the safety of the student or the community is in question.  In those situations, parents will be contacted.
What Does that Mean for You as a Parent?
Your student will be your primary link to Wittenberg. We will communicate directly with your student about anything that might affect his or her educational experience; you can learn about these communications by talking with your student directly. This means that if you have a question about how your student is doing in classes, whether your student is attending classes, or want to talk about your student's experiences on campus, you will need to communicate directly with your student. We encourage you to discuss with your student your expectations for sharing that information with you.  Students may give parents access to grades, schedules and financial information on the WittLink Portal. 
Because of the Family Educational Rights and Privacy Act (FERPA) you can't call and talk to someone about your student's academic progress without written consent.  Students who want their parents to be able to talk with university officials directly must sign a release form.  Release forms are good for one semester and only for that specific office or individual.
Who should I contact?
For Academic Concerns:
Academic Services    937-327-7891            
Vancenia Rutherford, Assistant Provost
For Personal or Social Concerns:
Student Development  937-327-7800
Casey Stevens, Associate Dean of Students, Student Conduct and Leadership
Dawn White, Senior Associate Dean of Students
John Young, Associate Dean for Multicultural Student Programs and the Womyn's Center
Mark DeVilbiss, Associate Dean for Residential Life
Campus Ministries    937-327-7411
Anders and Rachel Tune, Pastors to the University 
For Physical or Mental Health Concerns:
Health and Wellness Center    937-327-7811
Kathryn McKee, M.D., Director of Health Center
Linda M. Lauffenburger, Director of Counseling
(For Complete Contact List See the Parent's Handbook)