Information for Parents of First-Year Students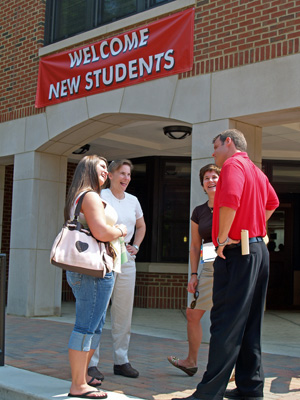 For your daughter or son this will be a significant time of transition.  It will be a time of intellectual growth and exploration, making decisions and plans for the future, developing increased autonomy, developing a greater sense of identity, and clarifying values and beliefs.  The relationship between you and your daughter or son will change some as they continue to go through the process of becoming an adult.  Your role as a parent is to understand the challenges your daughter or son will face and offer them support and guidance.
Helpful Tips and How to Support Your Student
Communicate regularly and openly discuss feelings, concerns, and differences of opinions. Ask questions, but not too many.  Honest inquiries and general discussions can strengthen the bond you have with your daughter or son.
Give your daughter or son time to adjust to being on their own.  Do not call every day.  Encourage them to stay on campus and not return home on weekends, at least for the first few weeks.
Listen!  Whether it is classes or friends, just listen and do not judge. The easiest way to deal with their issues is just to listen and reassure them that everything will work out and/or tell them to talk with their faculty advisor to resolve class-related issues.
Stay informed.  Learn about Wittenberg's campus resources, policies, and procedures so you will be informed when discussing issues with your daughter or son.  Read the section of Wittenberg's website for parents and families and the newsletter The Parent Connection.
Encourage them to take an active role in the problem-solving process.  Don't try to resolve the problem for them, instead ask them questions and guide them through the process.
Expect that your student will make many changes during his or her academic study.  The average college student changes majors two or three times.  The first year of college is a time of exploration – refer them to their advisor and to WittPath ​Career Services for assistance.
Encourage your daughter or son to get involved on campus – be active in their field of study, join a club or organization, etc. 
Be alert to signs of unresolved stress in your daughter or son.  Experiencing some stress when entering a new situation is quite normal.  If, however, the stress persists over time and you believe that it is interfering with their daily lives, encourage them to talk with a counselor at Counseling Services in the Shouvlin Center.
Send Them Something!!  Even if it is just an old picture of them or a short note saying how proud you are of them.
Have a frank discussion with your daughter or son before school begins.  Discuss issues of personal responsibility and time management, alcohol/drug use and safety issues, credit cards and finances, etc…