Supplemental Instruction
Developed by Dr. Deanna Martin in 1973 at the University of Missouri at Kansas City, Supplemental Instruction (SI) is an academic assistance program that increases student performance and retention.  The SI program provides regularly scheduled, out-of-class, peer facilitated sessions.  The SI sessions are open to all students in the class and are attended on a voluntary basis.  
SI Leaders are...
Students who have demonstrated competence in the subject area.
Students who want to "pass it on to others" and share what they have learned about mastering the subject.
Not tutors or instructors - they do not lecture or teach new material.
What happens in a SI Session?
SI Leaders use collaborative learning strategies to create a more active learning environment for student participants.
SI sessions integrate the review of lecture notes, textbook readings, outside supplemental readings along with appropriate modeling of learning strategies.
Students have the opportunity to become actively involved in the subject material.
Students discover appropriate application of study strategies, e.g. note taking, questioning techniques, vocabulary acquisition, and test preparation, as they review content material.
Benefits of SI…
Students earn higher course grades and withdraw less often than non-SI participants.
SI makes efficient use of study time.
Students learn effective study strategies that can be transferred to other subjects and content areas.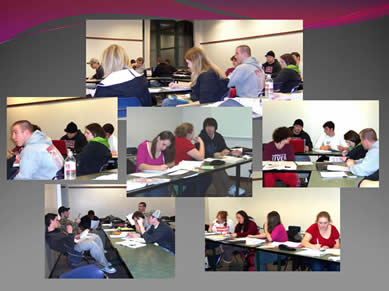 Student Comments...
"I have loved these sessions; I don't think I would have made it through this class without SI sessions.   It was great!"
"When I was struggling with understanding the overall concept in a book we were reading, SI helped pull everything together for me.  And it was very helpful for preparing for tests and quizzes."